Date of Visit:
September 22, 2007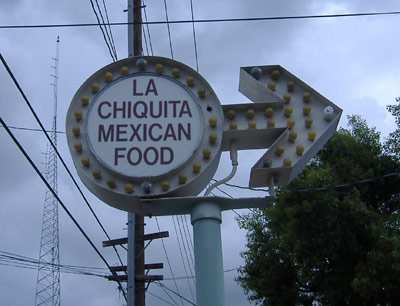 I tried out La Chiquita recently on the recommendation of my dentist who said he's been going there for years. Nestled in a residential area off of the main drag in Santa Ana, and giving new meaning to the term "quaint and charming," you'll need to keep your eyes open when looking for it the first time so that you don't confuse it with a house.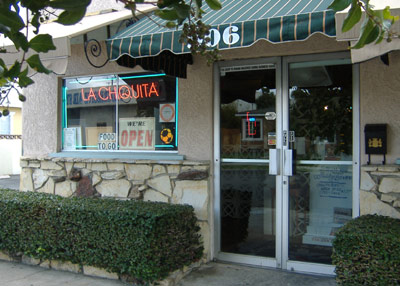 My dentist had mentioned that they have a big burrito on their menu called the "Buehler burrito." I thought I might try it until I got there and saw that it is a 5 lb. burrito for $14.50. Maybe I'll try it when I go back with a group. If any readers try it please leave a comment here relating your experience.
At La Chiquita instead of getting chips and salsa you can order chips and cheese (there may be a charge, my bill was not itemized so I couldn't tell if I was charged for these or not) which are essentially nachos that come with a squeeze bottle of salsa to apply to your liking.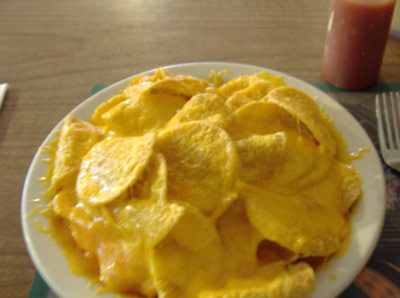 In addition to their regular menu I think they had at least three boards in different spots around the restaurant mentioning various specials. From the first one I saw I ordered the beef and potato taquitos special. Someone asked recently if I knew of a place that had potato tacos but so far I have only encountered potato taquitos. If the thought of potato taquitos sounds odd to you my only suggestion is to give them a try first before writing them off. When paired with the beef, as in these taquitos, it makes a nice textural counterpoint to the crispy taquito shell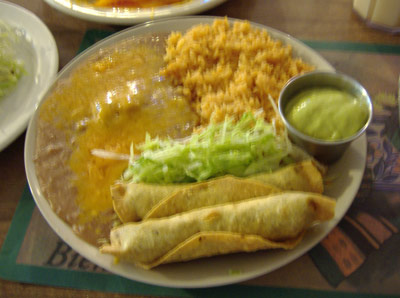 For dessert I tried their flan which is sliced like a slice of pie off of a larger flan. Firm and silky, but not too silky, La Chiquita's flan seems like the perfect introduction to this Mexican dessert for someone who hasn't tried it before.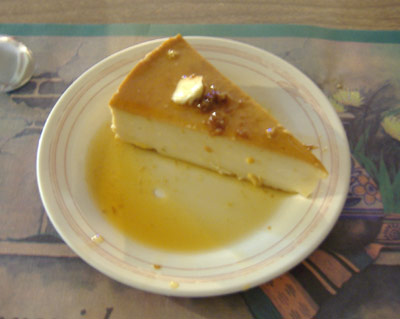 They also had some La Chiquita t-shirts for sale but they didn't have any in my size on hand while I was there. Maybe next time . . .
La Chiquita earns a four Speedy Gonzales rating:




Here's some additional interior shots: