Just a heads up that the official grand opening of the Chipotle at the Irvine Spectrum will be this Friday, October 12. If you go today, October 10, you may be able to get a free meal for yourself. I just went for a late lunch and they had a training day going on and were offering free meals for each person present (no, you can't load up on food to bring back to your family, college dormies, work buddies, rat pack, brat pack, or scat pack). Also, I believe they said they were only doing this for lunch so I can't make any guarantees about dinner time. Tomorrow, October 11, they will be having some kind of fundraiser. I don't know what it's for or who it's open to but I assume it's open to the public but that the food won't be free any longer.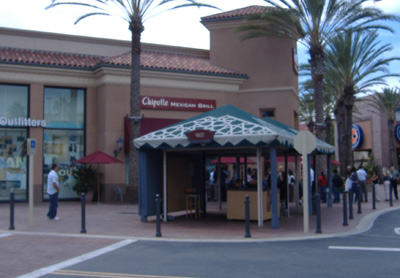 UPDATE:
Before you go rushing over there I just found out their free lunch only went from 11am to 2pm but that they
may
do it again tomorrow, October 11, during the same time frame. I'm suspecting they aren't open for dinner but am not sure. The whole thing is a little bit of a gamble so the strategy I'd suggest is to go if you know you'll be fine with eating elsewhere in case things don't work out with Chipotle.
UPDATE (October 11 @ 12:22pm):
The lunch today is by invitation only. The fundraiser dinner tonight will be open to the general public.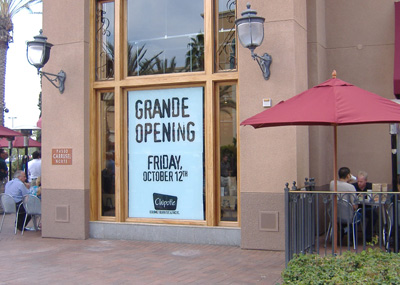 Click on the "chipotle" label below to see our one prior review (there will eventually be more reviews) as well as for a link to their official site.