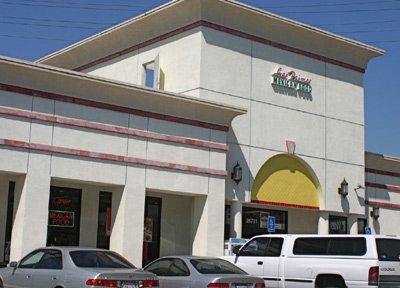 Before I go out of state for a few days and then return to work on my backlog of reviews to finish writing I'll leave you with a new review from Johnny Automatic, this time of Los Primos in Lake Forest:
Many parts of the newly opened territories of South and East Orange County are essentially nothing but chain restaurants. It can be almost impossible to find a family-run joint no matter what type of food you have in mind. The Foothill Ranch part of Lake Forest is no different. The only Mexican restaurant in town for a long time was La Perlita. Recently Miguel's, a long-time local's favorite in Corona, opened up a location here. I guess that puts Foothill Ranch way ahead of most of the new neighborhoods. But both of these places are full service sit-down restaurants. The food, and the time it takes for your meal, can both be a bit much for lunch.

There is a good option for a quick lunch at a reasonable price. It's one of two Orange County outlets of a small San Diego-based family-run chain called Los Primos. The one in Foothill Ranch is actually inside a Shell Gas Station! The other OC location is in Rancho Santa Margarita, another chain dominated city. Oddly, of their 19 locations, 5 of them are in gas stations. You'd hardly know it was there unless you are really looking for it. It doesn't seem to hurt their business any, and a number of people waiting for their food seem to have learned of the place through word of mouth.

They serve breakfast, lunch and dinner from 6am to 10pm daily. On past occasions I have mostly stopped by for breakfast. Their assortment of breakfast burritos are all good. Lunch time features a number of specials from an extensive menu, and the burrito I had recently was very good. But since they are based in San Diego, I decided to try that unique regional creation - carne asada fries. They even have a Wikipedia entry and I've seen them recently on people's "foods to have before you die" lists. They are an even more Americanized version of nachos. They have a lot of the same pluses and minuses of nachos from my point of view. The ingredients certainly are an appealing mix of flavors. You start with a base of french fries covered in melted cheddar cheese, carne asada is placed on top of this with large dollops of sour cream and guacamole are on either side of the meat. Almost every ingredient is just a nutritionist's nightmare and taken as a whole they are a heart attack on a plate. I understand that it a very popular dish for surfers after a good workout in the waves. If you need a carb and fat load you couldn't do much better. It seems a shame they close at 10 pm. This seems like the kind of gut bomb you'd have a late night craving for after a night of drinking. Putting aside my conflicted thoughts on this San Diegan specialty, the ingredients in this version were all very good and fresh. The carne asada meat was especially good. I'll need to try it in a burrito or taco soon.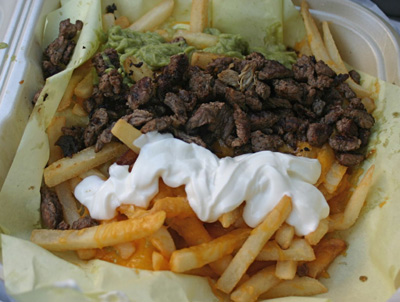 One of the problems with a lot of nachos is that it is hard to eat the toppings and the chips in an even manner. You often get sections loaded up with toppings and then a bunch of plain chips at the bottom. It takes a lot of work to get it all sorted out. I don't find things any easier with the fries. In fact, fries are a worse shape for picking up toppings. It is probably best to treat them like chili fries and go with the fork. As a first timer, I was working blind here.

I'm glad I finally tried these, but I will probably stick with Los Primos' other good Mexican items. They have a basic fresh salsa bar with a green salsa, red salsa, pico de gallo and pickled carrots and jalapeños. You can get several agua frescas but they are the fountain type sold under the Olé brand. And besides that you can get some Slim Jims, a Twinkie, a tank of gas and a car wash at the same time. Los Primos is a good place for breakfast or lunch if you're in the area and craving some Mexican food. They have a section set off for sit down dining and some tables outside too. I give it 3¾ Speedys:




Thanks again, Johnny.