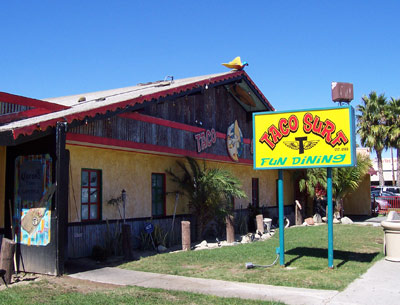 (
UPDATE (April 30, 2008):
Have recently received word that this Taco Surf has closed down.)
Continuing her coverage of the Costa Mesa area, Shelly B. checks in with a review of the Taco Surf on Harbor Boulevard:
It's been open for over 3 years, but I finally visited Taco Surf's Costa Mesa location. I've enjoyed the atmosphere of the Long Beach and Sunset Beach (Surfside) locations. And if any area needs more appeal, it's where the Costa Mesa restaurant is situated, off Harbor Boulevard near 19th. It's an oasis amidst the hustle and bustle outside. Around there everyone is trying to get somewhere.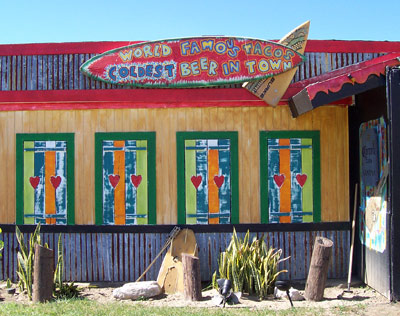 Once inside, you forget all about the seriousness elsewhere. Its bar is reminiscent of a palapa, which took me back to Mexico. They even have a Jukebox with excellent song selections – Love that. This location is franchise owned, as like the one in Dana Pointe, only 2 as yet. The owners do a good job, everyone was attentive and friendly. They've got a great selection of beers, including a refreshing Hefeweizen with Lemon, plus margaritas made with vino. Another fun thing about this location is the open air patio in the back. It's cozy, uses heaters when necessary, and contains couples booths, tables and a TV. The feel is comfortable and laid back.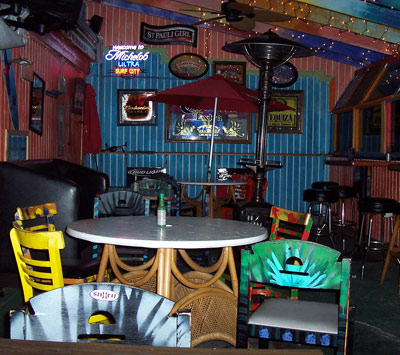 I've had Taco Surf's food on many occasions. This time we started with a Fiesta Platter, which offers a sampling of items, including Flautas, Quesadillas, Breaded Shrimp, Baja Fish, and Cheese Nachos right in the middle. It's perfect for two and comes with guacamole, sour cream and pico de gallo.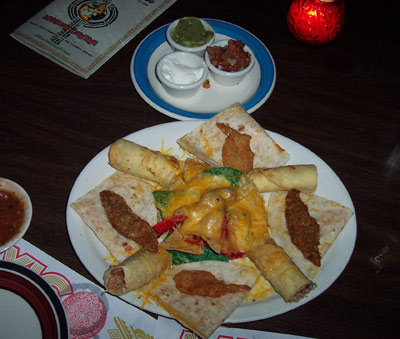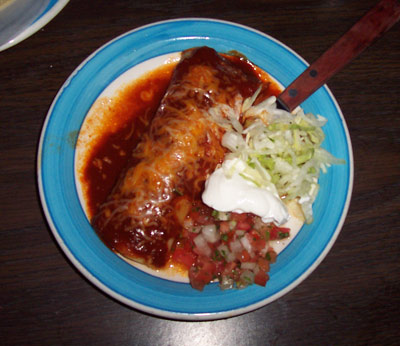 We also had an a la carte Chicken Enchilada and their "Famous" Baja Fish Taco, as they describe it. A sample of the same fish is on the Fiesta Platter. The taco also includes a generous slathering of their Signature Spicy Baja Sauce. Overall, I'm glad I discovered its contributions to the locality, since I am able to walk there. Next time I want to try their homemade Tortilla Soup and Huevos Rancheros, and then maybe the Pescado Veracruz. By the way, the salsa and multi-colored chips are very good. There are many good reasons to go back, not to mention there's a bus stop right out front.
Thanks, Shelly. Here's some more of Shelly's Taco Surf photos: