As mentioned previously I took a trip up to Utah from June 7th to the 14th. I knew that there would be at least some Mexican restaurants there and I intended to do a little exploring. It turns out that there were more than I had been expecting and I was able to sample four or five of them.
---
Taco Del Mar
Taco Del Mar is 80% Rubio's, 10% La Salsa, 5% Sharky's, and 5% every other fresh Mexican grill and they have a fish mascot named Carlos. The people there were very nice and told me the chain had begun in Washington State and is quickly expanding. I saw another of their locations while on a day trip up to Idaho. They also apparently have some locations in San Diego and are trying to figure out how to tackle the Orange County/Los Angeles market. They get extra points for having Choco Tacos.
Official Site
---
Taco Maker
One place that I got nothing more than a taco from was Taco Maker. It shared its restaurant space with a smoothie place so I ordered a "Sunrise Smoothie." Or maybe it was a "Sunset Smoothie." They had both. Sunrise . . . sunset. Sunrise . . . sunset. Taco Maker seems to be a big chain up there; they even had one in the food court in the mall and billboards all over the state.
Official Site
---
Rumbi Island Grill
Rumbi is a tropical island-themed restaurant chain with a heavy emphasis on the Hawaiian part of "tropical islands" which, of course, meant that I had to go there. I really liked Rumbi. The decor was laid back but very neatly presented. The food was incredibly fresh with lots of options on the menu. I ordered their Tropical Chips and Salsa as an appetizer though and there seemed to be nothing tropical about it, just regular corn chips and standard tomato salsa. They were good but I wondered why they referred to them as "tropical." While sitting at the table munching away and perusing their takeout menu (reading about food can be almost as good as eating it . . . and a lot less fattening) I noticed that one of their entree items was topped with pineapple salsa so we asked them for some pineapple salsa for our "Tropical Chips and Salsa" and they very readily gave us a cup. Later that night I borrowed my brother's computer and e-mailed Rumbi suggesting that they serve "Tropical Chips and Salsa" with the pineapple salsa they already have on hand. Another Mexican-oriented item on their menu was the Bahama Mama's Tortilla Soup, which I would order if they could make it without coconut milk.
Rumbi is run by a couple former Jamba Juice bigwigs and has a very Jamba Juice sensibility to it: fairly health-conscious food without the stigma of health food. I don't know if "health food" is the proper term here but we should all be concerned about eating healthy but many "health food nuts" can make it look so unappealing. I don't have any inside information but don't be surprised if you see Rumbi Island Grill in California in the future.
Official Site
---
Taco Time
Now Taco Time is a place I've known about for years and have never actually visited (to my knowledge) until this particular trip. I went through the drive-thru and was overwhelmed with the number of choices on the menu. My only way to deal with it was to order one of their featured items: their new Mango Ranchero Burrito, which was fried chicken chunks and mango salsa and some other standard burrito fillings. I had heard almost twenty years ago from my brother-in-law that Taco Time was an even more plastic version of Mexican food than Taco Bell was and as evidence he mentioned the fact that they had cherry burritos as a dessert item, flour tortillas filled with good old American cherry pie filling straight out of the can. I couldn't wait to find out if they really had cherry burritos on their menu. They didn't, but they did have dessert empanadas and it said to ask the person ringing up your order what the current selections were. I don't even remember what the first two options were because as soon as I heard the third one, Bavarian cream, I knew that's what I wanted. I don't care how authentic or inauthentic it was because it was so good. And they made it fresh right there. I'd get each item again.
Official Site
---
The Garden Restaurant
The day before heading back to California we met my brother for lunch in downtown Salt Lake City at the Joseph Smith Memorial Building (formerly the Hotel Utah). They have two restaurants on the top floor, The Garden (open for lunch and dinner) and The Roof (only open for dinner and slightly fancier than The Garden). It is mainly there for the convenience of nearby LDS Church administrative workers but is open to everyone and had a couple Mexican-oriented items on their menu including a Grilled Chicken Quesadilla and a Southwest Spicy Shrimp Salad.
UPDATE (October 21, 2007)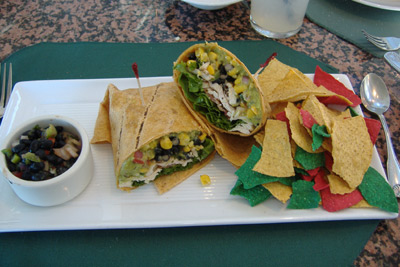 I've actually been back to The Garden twice since this initial report. On the first revisit I got a Wild Boar Sausage Quesadilla which was basically the same as the Chicken Quesadilla I got the first time but with different meat. When I went a few months later for my third visit this item was no longer on the menu. I liked it but I can imagine the "wild boar" aspect turned a lot of people off. So I got the "Southwest Tortilla Wrap – Your Choice of Grilled Chicken or Fiery Steak, wrapped in a Chipotle Tortilla with Roasted Corn Salsa, Black Bean Salsa, Crisp Bacon, Guacamole and Lettuce, served with Tri-Colored Corn Chips." Just as good as the two quesadillas but a little less greasy, which I guess made it a little better.
Official Site
---
Mi Puebla
Mi Puebla is the very last place I went although I think it was the first place I noticed after arriving in Utah. They prominently bill themselves as Authentic Mexican Food" and since they are the only place I tried in my 8-day trip that had
aguas frescas
maybe they are justified in claiming authenticity.
I showed up at Mi Puebla at 8:58pm and checked their door for a listing of their operating hours and couldn't find it so I tried opening the door and it opened right up and I went in (although there was nobody, customers or employees, to be seen) and finally saw a girl working in the back of the kitchen. I asked, "Are you closed?" "Yes." "Okay, thanks." Then I stepped out and headed back to my car to search for a place that stayed open after 9pm when I noticed a man walking out of the restaurant and toward my rental car. I wasn't entirely sure he was coming for me but didn't want to drive right past him so I rolled down the passenger's window and asked, "Are you looking for me?" "Yes. Did that girl tell you we were closed?" "Yes." "We are open until 10." "In that case I'll come back in." So I parked the car and went back in. We had a good little chat and he told me that it was their second location (first one opened up in Ogden about five years ago) and that it had opened about a week earlier. I ordered an item I had never heard of before called a
zincronizada
which was like a quesadilla with a big slice of ham in it. They had strawberry, pineapple, and horchata
aguas frescas
. The horchata was almost gone, not enough to make a full cup out of, so I suppose people had been ordering it throughout the day. I ordered the strawberry and the manager (José) threw in a free flan.
Official Site
There were a bunch of Mexican restaurants I saw there that I wanted to try but wasn't able to including Garcia's, Melina's, Cafe Rio, and others that I remember seeing but can't remember the names of. Other restaurants I went to in Utah include Noodles and Company, KFC, The Lion House, and my brother's house where we had excellent lobster tails one night.
---
Cafe Rio
Added October 21, 2007
When I was up in Utah for my first visit I noticed a place called Cafe Rio but didn't eat there. After that first visit I had numerous people telling me about Cafe Rio and that I "definitely have to try it." On my next visit I did eat there and took some pictures but those pictures were lost in the tragic "Christian Accidentally Deletes A Bunch of Photos from His Digital Camera While On Maui in June 2007" incident.
I tried the pork taco then that my brother recommended and loved it. I'd maybe even recommend a trip to Cafe Rio just to try it. I don't know how they packed some much robust, BBQy flavor into it but however they do it I'm sure it's illegal. What should also be illegal is their very hectic manner of rushing people through their line. You probably have to deal with at least six employees barking, "What do you want?" or "What did you order?" at you before you finally pay for your food and make it through the gauntlet/Subway-like food assembly line. I seemed to be the only person getting flustered by it though. Maybe I shouldn't complain; the food
is
good and I got the pork taco again on my next visit as well as a shrimp taco and their enigmatic chocolate-cheese flan (they also have a coconut-caramel flan), all shown below in pictures taken on my second visit. Now when people ask if I've been to Cafe Rio I can finally say, "Yes." I wear that badge of honor very proudly but still feel like I deserve a Purple Heart for dealing with that insane ordering line.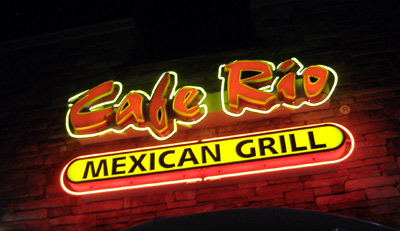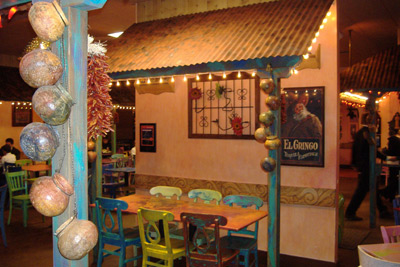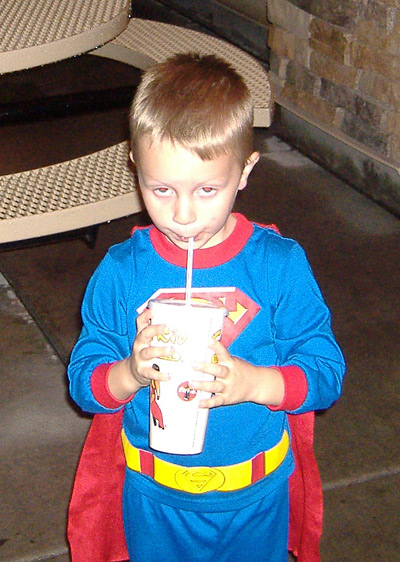 Superboy was there taking a much needed break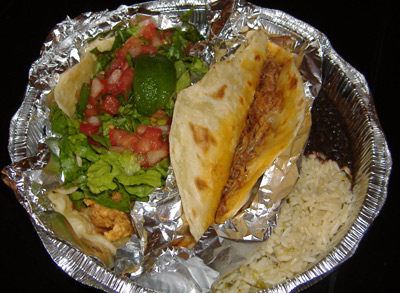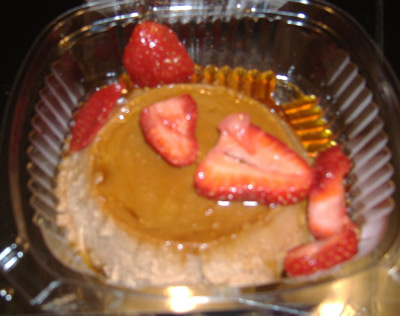 Official Site