The way this entry works is that when we find out about a tamale deal at a certain place we list it here under the year in which we found out about the deal. If we then find out that they renewed it for a new year then we will move their listing to that new year. If a place isn't listed under the current year it doesn't mean they don't have tamales; it just means we haven't officially confirmed it yet for a new year, but it might still be worth calling them find out.
---
2014
Las Fajitas
Cuca's Mexican Food
2013
Tlaquepaque
From
Facebook
: "Now taking orders for tamales we have pork, beef, chicken and cheese. Call us today and place your order at 714-528-0110."
Sarinana's Tamale Factory
We have new tamales on the menu: Corn tamales (the famous "Chepos") and Chicken tamales (with green and red sauce). - Happy Holidays (714) 558-8650 2218 W 5th St. Santa Ana, CA
Taco Mesa
"All Tamales are fresh handmade, wrapped & steamed in banana leaves. $25 per dozen"
More Info
OC Weekly
has some more 2013 choices.
---
2012
Mi Casa
Also to eat in only
Mi Casa in Costa Mesa
is offering the following fall entree:
Chicken Tamale - $8.95
Fresh masa stuffed with shredded chicken and Pasilla Chiles covered with salsa verde; served with beans and rice.
Trader Joe's
Grandpa's Mexican Food
Grandpa's Mexican Food has closed and been replaced by a different Mexican restaurant. I'll try to check when I can to see if they have tamales for the holidays.
Antonio's
At La Palma/Imperial in Anaheim Hills: $21 per dozen.
Whole Foods
Even more info here:
Stick a Fork In It, Where to Buy Tamales in Orange County This Christmas, 2012 Edition
---
2011
We're coming up on Christmastime 2011
and people already want to know where to get tamales from for the holidays. If you know of a place in Orange County that is selling tamales please leave a comment or e-mail
reviews@ocmexfood.com
and I will add the information in here. Here's what we know so far.
Tamarindo Truck
Read Our Interview w/ Tamarindo Truck
• Call (714) 640-9371 to order
ADDITIONAL NOTE: The Bernardo Yorba Middle School is hosting a Food Truck Festival on 11/25 and TAMARINDO TRUCK will be there pre-selling holiday tamales. Best part is every purchase will help to support the award winning music program at the school. Please tell your readers to come to 5350 Fairmont Blvd in Yorba linda 4PM-9PM on Friday 11/25 and they can get some world class tamales along with all of Tamarindo's GREAT Mexican delights.
Reyna Market
Will have four different kinds of tamales. 12 for $20.
Reyna Market
902 W McFadden Ave Santa Ana CA 92707
(714) 549-1558
Yellowbot Listing
Rancho del Zocalo
Rancho del Zocalo
in Disneyland is
serving tamales
during the holiday season. They just serve them at the restaurant, not as bulk orders, but it's a good thing to keep in mind if you are at Disneyland this time of the year. The picture above is from 2010 so the price
might've
changed.
Here's a video of one of the chefs at Disneyland showing how to make tamales:
And one by a Disney fan about how to make Rancho del Zocalo-style tamales:
Matador Cantina
"Our house-made Holiday Tamales are back! Beef or chicken take-out orders only. $30 doz. Order 2 days prior to pick up. 714.871.8226" There will also be tamale entrees available to enjoy at the restaurant during the holiday season.
Sandoval Family
Not from a restaurant but straight from a Mexican family: Chicken, red or green chile, and rajas (jalapenos, cheese, tomatoes) tamales for $13.50 a dozen. Call (909) 988-9650 to order and arrange pickups.
La Reina Markets
Pork, chicken, and cheese/jalapeño Single tamale $1.39 + tax or a Dozen $14.00 + tax
Official Site
Cafe Maiz
Cafe Maiz
in Mission Viejo is selling three different types of yummy tamales for $36 a dozen.
Click for larger image
UPDATE: Cafe Maiz has closed.
---
2010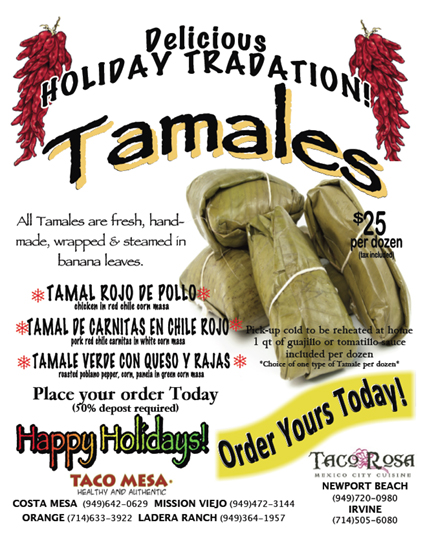 Azteca's Details:
Read more about Azteca's by
clicking here
.
---
2008
Durango Mexican Grill
Chicken, beef, pork or vegetarian tamales for $20 a dozen. Call (714) 255-5660 to order or for more info. Read more about Durango Mexican Grill in Brea by
clicking here
.
Esther's Taco House
Frequent blog reader Kelly has e-mailed saying that Esther's Taco House in Yorba Linda and Placentia has tamales, speaking of which I went to the Placentia Tamale Fest tonight (Dec. 9, 2008) and finally tried some of Esther's food at the booth they had set up there:
The phone number for their Placentia location is (714) 996-2397.
Las Golondrinas
Frequent blog commenter and sometimes guest writer Captain Jack left the following comment about Las Golondrinas: "Las Golondrinas has both savory and tamales dulces. They have 5 stores in South County. For the locations, go to
lasgolondrinas.biz
."
---
2007
Pepe's
Johnny Automatic has e-mailed that Pepe's has tamales too. Order them at their Brea location: 655 S Brea Blvd Brea, CA 92821 (714) 257-7373.
Moreno's
Johnny Automatic also mentioned
Moreno's in Orange
, "or specifically the little panaderia located in a little building on the property just west of the restaurant."
Click here
to read the LA Times Calendar Live article about the tamales at Moreno's.
El Camino Real
(From ElmoMonster's comment below) El Camino Real Mexican Food 303 N Euclid St Fullerton, CA 92832 (714) 447-3962.
Super Antojitos
(From an anonymous comment below) Super Antojitos 341 E 1st St Tustin, CA 92780 (714) 832-2252