Since I'm always analyzing the traffic for this site and what it is that drives people here it is hard to not be cognizant of the fact that people are
always
searching for information on Naugles, the erstwhile Mexican fast food chain that enjoyed about a two decade run before being bought out by Del Taco.
These searches seem to come mainly from people who know Naugles is gone and are simply waxing nostalgic, hoping to find some remembrance of Naugles on the web, but sometimes it seems that people are hoping to actually find some Naugles food again. About a month ago I learned that Del Taco still serves the Naugles "Bun Taco" but that they just don't list it on their menu (price is $2.00).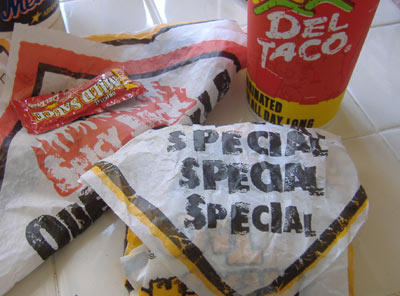 Since learning about it I have tried it twice, once during a walk-in visit and once through a drive-thru and didn't have any problems ordering it either time. The bun taco is basically a hamburger with ground beef instead of a patty. It's not searched for as much as the Naugles cheese burrito is but if lots of people start ordering it then it could tip the Del Taco corporation off to the fact that people are still looking for Naugles food.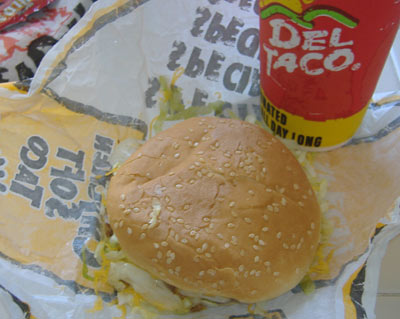 Here's a couple Naugles commercials that have recently shown up on YouTube. One of them is even from when Del Taco and Naugles were co-branded:
And speaking of Del Taco here is a press release from them about their Golden Taco Employee Recipe Contest:
---
Del Taco Kicks Off Second Annual Golden Taco Employee Recipe Contest
(Lake Forest, CA) Aug. 26 2008
– Who better to dream up new tacos and burritos than the employees who prepare the food? That's what Del Taco is counting on again with the kick off of its second annual Golden Taco Recipe contest. This contest is a chance for employees to demonstrate their menu ingenuity when it comes to using ingredients already found in Del Taco kitchens. The contest was inspired by the many creative suggestions the company's product development team received from restaurant employees.
The first contest of its kind at the more than 40 year old Del Taco, this year's contest promises to be even bigger. Last year's winning recipe, an "Enchilada Cup" was among more than 120 submissions that made tasty use of ingredients already found in Del Taco restaurants. This year, employees may add an additional ingredient if they choose. Submissions are due by October 1. Winners will receive cash prizes and have their recipe considered for inclusion on the Del Taco menu.
Founded in 1964, Del Taco, the Lake Forest, California-based company operates or franchisees more than 510 restaurants in 16 states. Del Taco offers a full range of made-to-order Mexican items such as tacos, burritos, quesadillas and American favorites including cooked-to-order burgers, fries and shakes. Del Taco uses fresh ingredients including hand-made salsa, fresh produce, freshly grated cheddar cheese, chicken grilled every hour and lard-free beans made from scratch. Additional information is available at
www.deltaco.com
.
---
Also recently stumbled into a Del Taco that was selling Crispy Jalapeño Rings: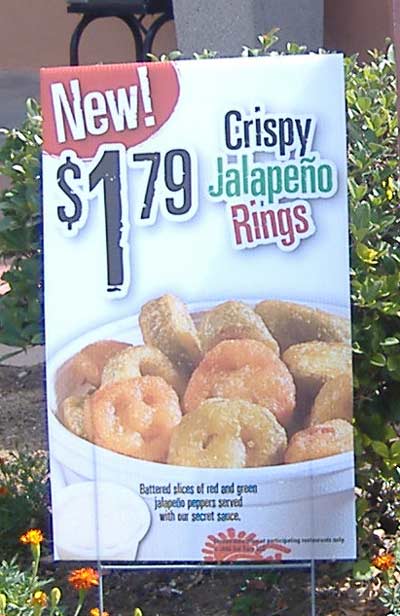 UPDATE (April 20, 2009):
The Crispy Jalapeno Rings appear to now be available at all Del Tacos, not just test stores, for $1.99.
UPDATE (April 24, 2009):
A few days ago I went through the drive thru at the Del Taco on Brookhurst between Slater and Warner in Fountain Valley early in the morning. This is a location that used to be a Naugles. The guy taking my order asked if I wanted a Macho Bacon Egg Burrito with red and green sauce. I didn't see it even mentioned on the menu board but said I would try one. Now when I look back at some of the comments on my Naugles entries here it looks like this could be another hidden Naugles item on the Del Taco menu. Does anyone else have any more info on this?
UPDATE (May 9, 2009):
Went to Del Taco for lunch and took this picture of the Naugles bun taco and the jalapeno rings that I ordered:
There's also a regular taco and spicy jack quesadilla hidden in there.
UPDATE (October 8, 2012):
Del Taco recently mentioned International Taco Day on their Facebook page and showed the Bun Taco as one of their many taco options. Notably they do not call it a Naugles item and it may be correct for them not to because it may have actually started as a Del Taco item, but the distinction may be lost to history.