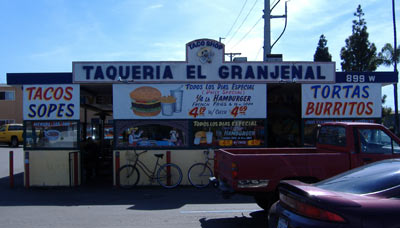 I've been getting plenty of traffic here at the blog over my recent mention of
Korean tacos at Baja Fresh
. Numerous sites have linked to it and people have been mentioning it on Facebook, Twitter, discussion boards and more. Just yesterday I got word that
Taqueria el Granjenal
is now also serving Korean tacos. This shouldn't have surprised me since I mentioned in my review of them over three years ago that this is a Mexican joint owned by a Korean. Reader Jonathan S., who is a fan of the prolific Mexican food scene on 19th St. in Costa Mesa, went for dinner and took some pictures and sent in his remarks:
Now THESE are how korean tacos should be. They were honestly a great amount better than the baja kogi crap i had earlier today. yes, i had korean tacos twice today. The flavor of both the pork and steak was great where baja kogi was a little bland. They seem even more bland after eating these. They come with a type of cabbage that doesnt have a lot of flavor but you can tell theres a small amount of an asian hot sauce. My one regret is after I finished I looked in the bag and there was a small container of what ended up being a thick teriyaki type sauce but the flavor was good and it was not that strong. I wonder how that would have gone on the actual tacos. Guess I will have to go back. I also got a torta de asada which was whatever. Kim's Tacos were $1.79 each and were smaller than the normal tacos.
I'm going to try to make it there soon myself to try these out and get some more pictures. Thanks, Jonathan. If anyone else knows of a place to get Korean tacos within the county line let me know by sending an e-mail or leaving a comment here.
Also, you can
click here
to read our complete coverage of Korean/Mexican fusion all at once.
UPDATE:
Here's my own pictures from the early lunch I just got back from: