Date of Visit:
December 29, 2006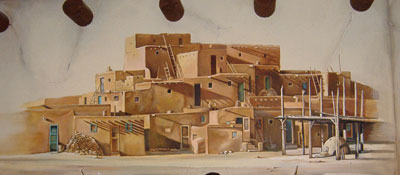 Had another quick visit (my second overall) recently to Blue Agave Southwest Grill in Yorba Linda. Billed as Southwest fare it strikes me more as Mexican food with a Southwest flair.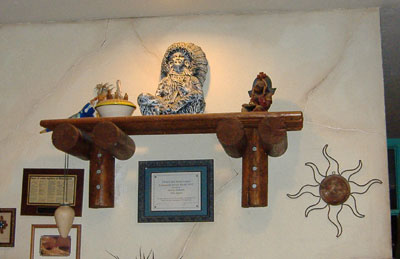 I tried out a new item, the Puerto Nuevo Tostada, described in their menu online as: "Warm shrimp, Mahi-Mahi and mushrooms are over a bed of mixed greens, cucumbers and hicama Tossed in a pumpkinseed citrus dressing. Topped with sour cream and fresh raspberries." It's sweet and savory, crunchy and juicy . . . and good for you . . . all at once.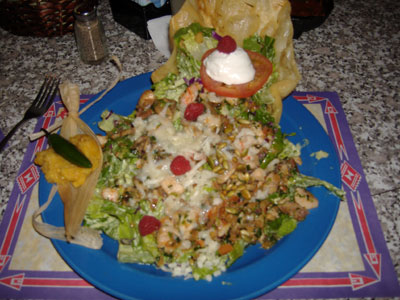 James got the Tempe Tacos, "Homemade flour tortillas . . . stuffed with grilled chicken breast [and] served with a spicy chile and tomato spread. Served with Texas beans and rice." It can also be served with grilled steak or fresh Mahi-Mahi in place of the chicken.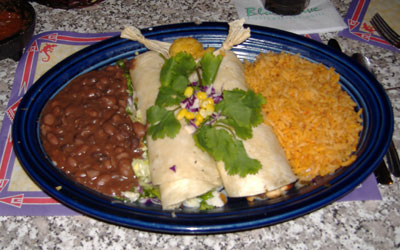 Their flan actually has pineapple, mango, and papaya in it: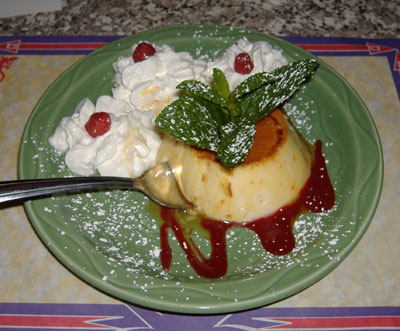 I'm still waiting for a visit to Blue Agave when I can really take it all in. There's so many more things on their menu I want to try, but that's the fun of this job, er, hobby. Blue Agave Southwest Grill earns a four and a half Speedy Gonzales rating: