Date of Visit:
March 2, 2007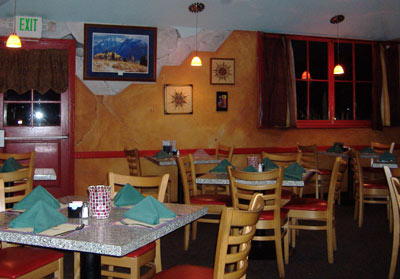 Here's a few pictures from one of my favorite places: Blue Agave Southwest Grill in Yorba Linda. I've only been three times; each visit was a result of visiting my friends James and Lori out in Anaheim.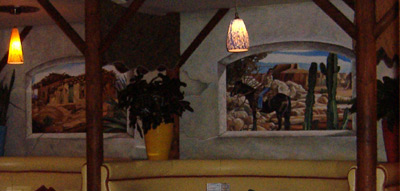 It's billed as a "Southwestern Grill," and not "Mexican,"
per se
, but when their menu is filled with items such as tortilla soup, quesadillas, flautas, guacamole, taquitos, mole enchiladas, pozole soup, tostadas, etc., then I feel safe reviewing it here.
James ordered the Chicken Pozole Soup, unique in that it's the only pozole I know of served in tomatillo broth. Rounded out with chicken and hominy and served with sides of peppers, onions, cilantro, and cotija cheese I already know this is what I'm going to order the next time I go.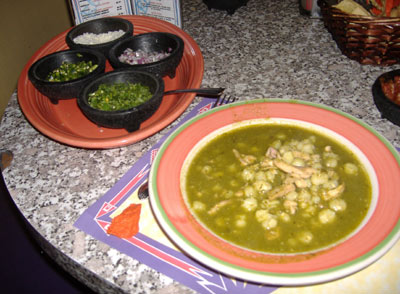 Having not had mole anywhere in a while I jumped on ordering the Arizona Chicken Mole Enchiladas: "Chicken rolled up in tortillas and served in our special mole sauce of chile anchos, tomatoes and plantain. A spicy and sweet favorite served with Texas beans and rice." This mole, rich, full-bodied and spicy, rivals that of Javier's, Taleo's, and Taco Rosa's.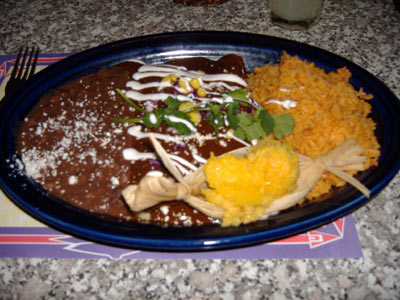 When I got the Rice Pudding Tostada to eat in it was presented much better than it was when I got it about a year ago as a takeout item (see first review by clicking on the "blue agave" label below):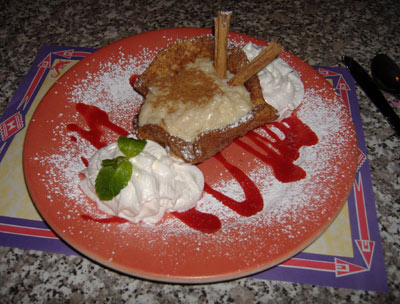 As we walked away James remarked, "I wonder if they have anything there that's not good."
Blue Agave Southwestern Grill maintains its solid four and a half Speedy Gonzales rating: