Time for another "roundup" entry where I post info that doesn't fit neatly into a proper restaurant review.
Mexican Restaurants
Mexican restaurants I have already reviewed and have visited since the last roundup entry for non-review purposes include: Tortilla Jo's Taqueria (the walkup window at
Tortilla Jo's
at Downtown Disney, Charo Chicken, Taco Rosa, El Pollo Loco (which is bringing back their black beans today),
Taleo
(look for an entry featuring some of their new menu items soon),
Normita's Surf City Tacos
,
Baja Sharkeez
, Blue Agave (although I might do a photo post of this particular visit), and Taco Mesa in Ladera Ranch.
Mexican restaurants I haven't reviewed yet (but will review sometime) that I've visited for non-review purposes (just old-fashioned eating) since the last roundup entry include:
Super Antojitos
and
Wahoo's
(yes, the Wahoo's Non-Review Curse has struck again).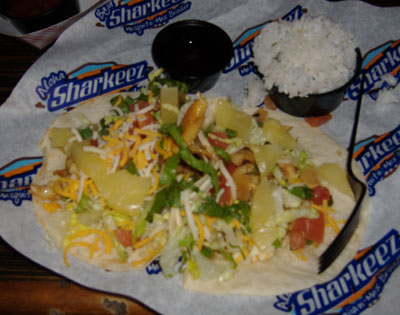 Maui Chicken Tacos from Baja Sharkeez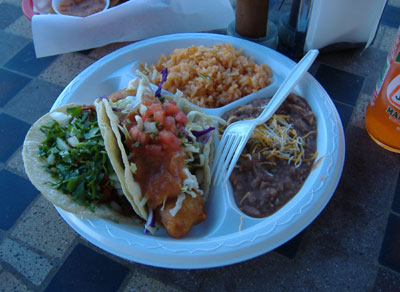 Normita's Surf City Tacos
Non-Mexican Restaurants
Non-Mexican restaurants I've eaten at since the last roundup entry include:
Bengal Barbecue
,
Pacific Whey Cafe
, 50 Forks (where, according to Gustavo Arrelano, you can dine like you're in Newport Beach but at Santa Ana prices), Kabuki,
Gyro King
, and
Daily Grill
(American comfort food at its most robust). Also recently joined Kirk from
mmm-yoso
, Deb from
Dinner at Six
, "ChubbyPanda" from
Epicurious Wanderer
, "ElmoMonster" from
Monster Munching
, "Wandering Chopsticks" (read
her report
), Joy, and Elonweis from
OC Food Blogs
for
dim sum
at Dragon Phoenix Palace in Westminster: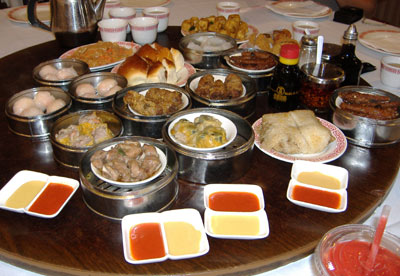 Here's my King Crab Rolls and ice cream from Kabuki: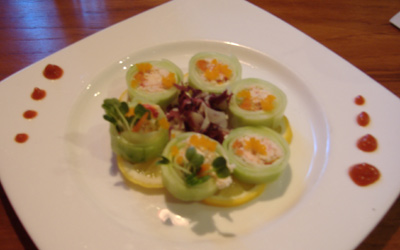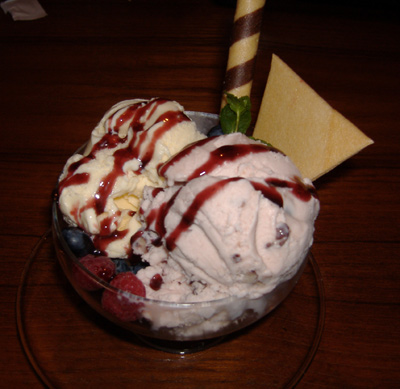 And I've done some home cooking recently, too, including this blackberry meringue from some Sunset cookbook: