Date of Visit:
February 20, 2006
815 Indianapolis Ave
Huntington Beach, CA 92648
Listing on Yahoo! Local
No known official site.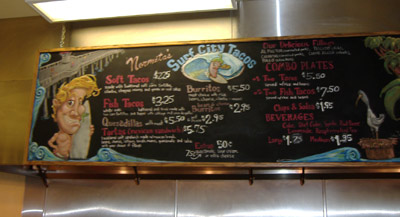 This is the first place where I got to use my new digital camera. Three friends (Sherry, Bill, and Phil) were along for the experience and at various moments they either didn't know they were being photographed, knew it but tried to get out of frame, or knew I was taking a picture of something else and burst into frame.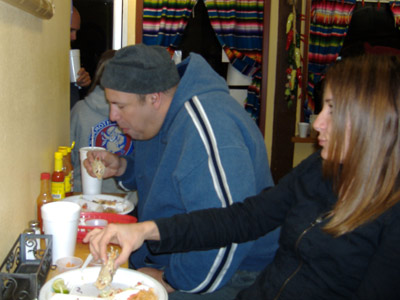 Surf City Tacos has a definite surf city vibe (sorry, Santa Cruz), very much of a locals hangout. It is also very cramped inside and the only tables where there is room to put all your food are the two that are outside. But it was too cold to eat outside tonight so we ate with our food hanging off the ledges inside. I ordered the fish taco plate and it came on one of those styrofoam plates that has the two divisions for side orders that were filled with the requisite rice and beans, both very standard tasting. The tacos were very reminiscent of Rubio's fish tacos.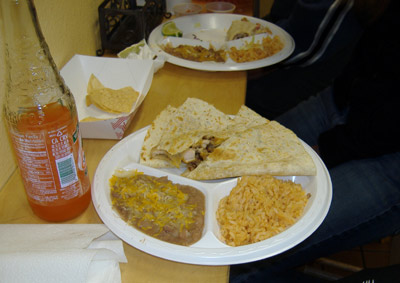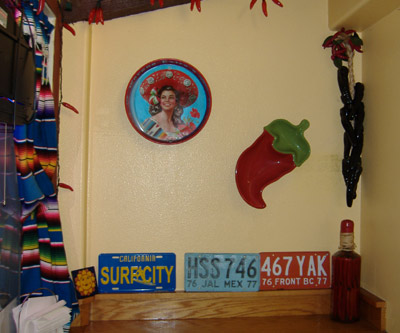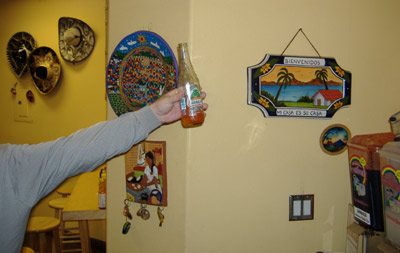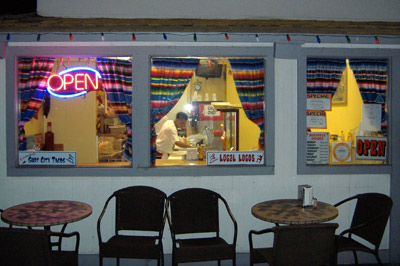 Sherry, Bill, and I all liked the place but Phil called it a cross "between Taco Bell and Las Barcas" and complained about their salsa. He said the only place that has worse salsa is some Mexican joint in Whittier run by Vietnamese people. I guess everyone has their own opinion.
Normita's Surf City Tacos earns a three and a half Speedy Gonzales rating:




UPDATE: Here's a taco plate I got at a later date: