---
Click HERE
to read ALL our extensive coverage of Taco Rosa. Includes extensive photography. This is the link to follow if you want to see tons of pictures of Taco Rosa's food. Also includes links to their official site, addresses for both their locations and more. If you are just looking at "Taco Rosa - Review #2" then you are not getting the big picture on Taco Rosa.
Taco Rosa
2632 San Miguel Road
Newport Beach, CA 92660
(949) 720-0980
Appetizer
: Sausage Chimichanga
Entree
: Sopa tlalpeña and Alambré Taco
Drink
: sandía (watermelon) aguas fresca
Dessert
: Fried Sopapillas
My favorite Taco Rosa waitress served me this time and told me I had missed the grape aguas frescas by one day. I asked her how I would know when they might have it again and she said it is decided each morning what two aguas frescas to make for that day. So I'll have to try again another day. She did, however, bring me a free appetizer that I had never had there before: a sausage chimichanga.
Next up was a bowl of their soup listed on their specials chalkboard for the day and to the best of my memory it was called
Sopa tlalpeña
, and was basically a chicken soup with rice, garbanzo beans, and avocado slices.
After a big lunch earlier in the day, the chimichanga, the soup, and the prospect of dessert, I wasn't sure I would want a full dinner entree so I ordered an
alambré taco
(cubed steak grilled with bacon, red onion, pasilla pepper and Oaxaca cheese garnished with marinated serrano peppers and red onion)
a la carte
. It still came with a helping of
escabeche
and some of their orange/red corn chips, all of which helped to round out this perfect meal.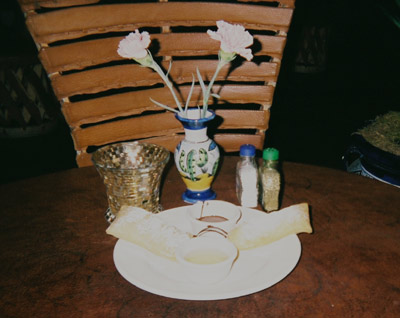 The sopapillas shone forth a heavenly light
(actually it was just bad photography)
After telling me several times in the past that they don't do half-size orders anymore on dessert I was told tonight that I could get the fried sopapillas half-sized and it was just the right amount for me. The dish came with two fried puffy sopapillas, a scoop of vanilla bean ice cream drizzled with chocolate (that hardened like Magic Shell), and a cup of chocolate and a cup of agave nectar (cactus honey) for dippin'. I don't know what caused the change or how long it might last but it really makes sense to have dessert portions that are the right size for one person, so, thank you, Taco Rosa, for doing that for me. Keep it up. I've been to Taco Rosa many times by myself but have also been on many occasions with as many as seven guests and just about everyone I have introduced Taco Rosa to has gone back and brought other people with them. So I have many times ordered one or more full-sized dessert platters but sometimes you just want a one-person portion. Okay, enough on that "half-size" topic. The final thing I would say about their desserts for this entry is that they now have a separate dessert menu that they bring to each table when the guests are done with their main entrees. It is all the same desserts listed on previous iterations of their full menu, with one exception being that there is a new dessert sampler platter featuring churros, flan, and chocolate-covered strawberries, pretty much some of everything except the sopapillas.
For excellent food and personalized service this Taco Rosa visit earns an unqualified five Speedy Gonzales rating:





Click on the "taco rosa" label below to read all our entries on Taco Rosa, most of which include better photographs than this entry has.