Date of Visit:
February 6, 2006
9480 Talbert Ave
Fountain Valley, CA 92708
Listing on Yahoo! Local
Official Site
(UPDATE - March 19, 2007: The Zesty Nachos mentioned in this review that were only available in a few test markets at the time are now available at every Taco Bell.)
"Taco Bell?! Taco Bell?! You mean to tell me you're reviewing the least authentic, most McDonald's-like 'Mexican' fast food restaurant there's ever been?" Yes, yes I am. It may not be authentic but sometimes it fits just what you need at the moment. And I always see Mexican people eating there so if they don't have a problem with it then why should I?
This particular location used to be a
Pup 'N' Taco
that I would go to all the time with my family when we piled up in our old green van.
Pup 'N' Taco
had excellent grape slushes that I still miss. It was converted to a Taco Bell in the summer of 1984. Was that a good move? Who knows. A recent Internet search showed that there is still a Pup 'N' Taco somewhere in Texas. If that is true and they still have the grape slushes I might go there.
A new item on their menu that I noticed this time was their Zesty Nachos. I ordered these without hesitation because they seemed like the nachos supreme but without the beans. I used to always order nachos supreme without beans and the employees couldn't figure out why somebody would want nachos without beans so they would always take the beef off instead. Now I can just order the Zesty Nachos and have no fear of my order getting messed up. Also, they are only 79 cents, whereas, if my memory serves me well, the supreme nachos were $1.19 or maybe $1.29.
I also added a bean burrito. Why am I ordering a bean burrito if I don't like beans on my nachos? I guess it's my own idiosyncracy but beans just don't seem right to me on crisp corn chips but do seem appropriate on soft flour tortillas.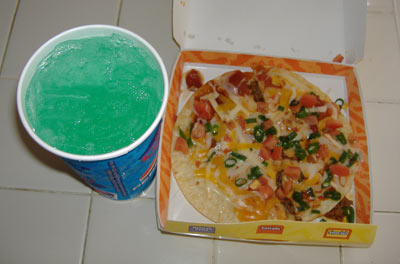 Mountain Dew's Baja Blast and Taco Bell's Mexican Pizza
Taco Bell also serves an exclusive Mountain Dew variety,
Baja Blast
, which they say has a 'tropical lime' flavor. Yes, that's true, you can only get this drink at Taco Bell. This helps to mix things up a little when making a fast food run.
Another plus is their caramel apple empanadas, a relatively recent addition to their menu. I've had these dessert empanadas a few times and they are sticky, gooey fun and a great way to finish off the meal and not at all bad for 99 cents. There was a brief period of time when one Taco Bell location had Klondike brand Choco Tacos on their menu as a dessert item, including the rare Choco Tacos that had strawberry ice cream. I wish they'd bring those back.
My whole meal came to only $4.16. That's pretty good for nachos, a burrito, a drink, and a dessert, all of which tasted very fresh.
I feel funny giving Taco Bell such a high rating but it earns a three and a half Speedy Gonzales rating for having enough unique items on their menu at a very reasonable price:




---
Trivia Question:

Five Speedy Gonzaleses go to the first person who can tell what the original name of Taco Bell's Mexican Pizza was.
Update (August 4, 2006):
Five Speedy Gonzaleses go to Chaz Lamrusco who correctly guessed that the original name of Taco Bell's Mexican Pizza was "Pizzazz:"