Date of Visit:
January 31, 2006
201 S Bradford Ave
Placentia, CA 92870
Listing on Yahoo! Local
Official Site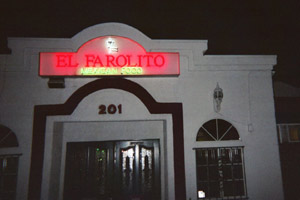 Appetizer:
Free chips and salsa (rather spicy hot salsa)
Beverage:
Lemonade
Entree:
Chile relleno burrito
El Farolito opened in 1974 and is in sleepy downtown Placentia. So sleepy you can walk around right in the middle of the main streets and have no fears for your safety. A customer's comments on their Yahoo! Local listing says that the building El Farolito is in used to be a house.
When I saw that they had a
chile relleno burrito
on their menu I had to try it. Then when it arrived I wondered if the stem would be removed from it so that nobody would accidentally eat it when it's even more hidden than normal because of being inside the tortilla wrapping. Well, and I don't know how this happened, but the stem hadn't been removed and there were two additional loose chili stems inside. I figured it must be a sign of good luck so I made a secret wish. The
chile relleno burrito
turned out to pretty much be a chile relleno inside a flour tortilla with some refried beans thrown in for good measure and ranchero sauce all over it so I had to eat it with a fork and knife.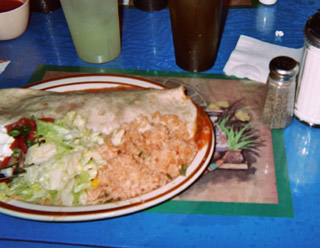 The Chile relleno burrito is camera shy
My brother ordered a two enchilada plate but had them substitute a chile relleno for one of the enchiladas. My friend's mother ordered a chile relleno a la carte and said it was the best chile relleno she's ever had. None of the three people (my friend James, his wife and his kid) on the other side of the table ordered anything that had to do with chile rellenos.
Their menu didn't mention
postres
so we just went to Foster's Freeze afterwards.
Overall, El Farolito earns a three Speedy Gonzales rating:



UPDATE (February 13, 2009):
Here are some pictures taken three years after the initial review:
Menudo
Taco Platter
Big Burrito
Camarones Empanisado