14988 Sand Canyon Ave
Irvine, CA 92618
Listing on Yahoo! Local
Official Site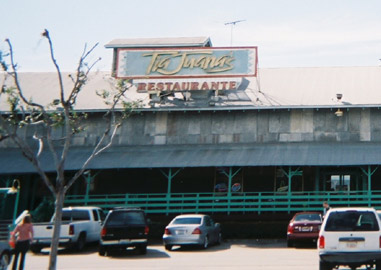 UPDATE: Tia Juana's has closed down as of late 2011.
Located in historic Old Town Irvine where the 5 Freeway and Sand Canyon Avenue meet, Tia Juana's is built into an old grain silo. At least that's what I've been told. I've also been told that it's only made to look that way. Either way, it still
looks
like it's in an old, old building. Everything else in the little Old Town Irvine either looks old or is old, including the La Quinta Inn, the Knowlwood, The Denny's, the Jack in the Box, the post office, and the antique store. Sometimes I've seen permanent travelers (modern gypsies) parking their RVs there for long-term stops. If you see an RV there be careful about looking too closely because the people in it might be taking showers. The post office is a little gem. It is a
bona fide
official US post office but, at last check, it doesn't even show up on the postal service's website when you search for post office locations. Ever since I found out about it I've gone there rather than going to the big, enormous postal station about a half mile south on Sand Canyon because there is rarely a wait. There's also a really expensive gas station in Old Town Irvine. Don't go there if you don't need to.
Why all this talk about other places in the same shopping center? Because Old Town Irvine is an interesting little place but there's not much to say about Tia Juana's. It is one of those places you go for drinks when you get off work. The food is a secondary feature. I went largely to try their deep fried ice cream because their online menu doesn't mention coconut as one the ingredients and the last place I ordered deep fried ice cream used coconut but I can't eat coconut so I was anxious to try a coconut-free version.
As an entree I ordered their Alaskan "Mero" - yellow corn-meal encrusted Alaskan halibut topped with citrus chipotle sauce and served with some zucchini/yellow squash concoction and yellow corn masa (there's a definite yellow theme going on here). I had told the waitress I wanted to order something different and she said, "That's definitely different." And it
was
definitely different. The fish was good and cooked to just the right degree of doneness but the chipotle sauce was a little funny tasting. Not bad, but I wasn't asking for extra. And the salsa that came with the chips made a good fish topping and so did the squash mixture (I just know I'll remember what the squash stuff was called after I post this review).
I wanted to try their deep fried ice cream but they never even asked if I wanted dessert; therefore I didn't order any and therefore I can't comment on it. I don't know why they didn't ask. Maybe I didn't look like a big spender or maybe I acted like I was in a hurry to get back to work (I wasn't) or maybe they're just not used to people ordering dessert at lunchtime. I did, however, notice that their little dessert menu mentions that their deep fried ice cream is rolled in bran flakes so maybe that helps you to feel slightly less guilt when you eat it.
I want to drop them down to two for being so average and not asking if I wanted dessert but I'll give Tia Juana's a three Speedy Gonzales rating for having something a little different on their menu: