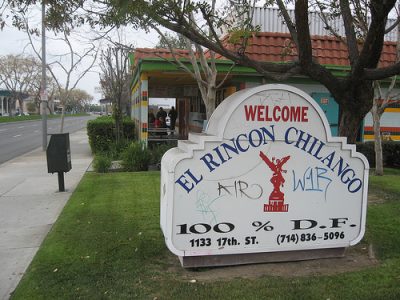 Graffiti comes free of charge
Here is our first guest review by longtime reader Alex (aka "kare_raisu"):
El Rincon Chilango has to be the most colorful restaurant I have ever seen. You cannot miss it driving down 17th St. Stripes and every color in the rainbow.

But what stopped me dead in my tracks was a sign advertising "Tlacoyos." This has been the first time I have ever seen these on a menu. I had first read about them in A Kennedy book - I forget which. Apparently it is a specialty of Mexico City and considered an Antojito Chilango.

It is a long oval shaped masa snack that is cooked with a filling inside and a salsa is poured over with some salty cheese and cilantro and minced onion.

I had never had flor de calabaza or squash blossom before (next time Im trying the haba) so I ordered that.

There is an indoor seating area on one half side of the restaurant with table service. Every table was filled with families eating together on Sunday - eyes affixed to TV Azteca playing up above.

After a bit of a wait, sipping on my horchata, the plate arrived. It's a pretty unique dish. The masa was made from Maseca but it was crisp and warm. The salsa verde was one of the best I have had - extremely bright and flavorful, interspersed with salty queso fresco. The flor was likely from a can - just ok.

This may be one of the only Mexico City style restaurants in the area and has some unique dishes I plan to work my way through, esp. tacos de canasta and the borrego the guy next to me had.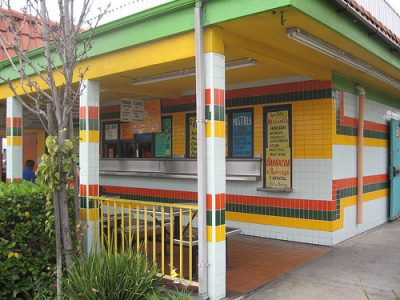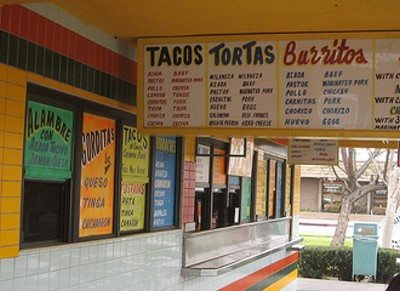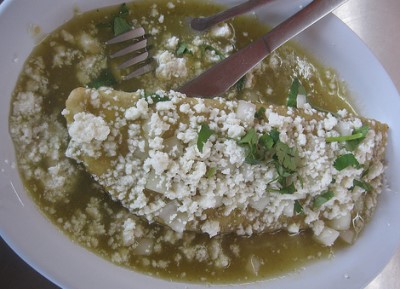 Thanks for the review, Alex.
UPDATE (June 8, 2010):
Here's pictures of when I went myself a couple days ago: