2012
Here's the places that I know of that will be open on Christmas Day 2012:
El Torito and El Torito Grill
Landmark Newport Beach Call for Reservations: (949) 675-5556
Taqueria Don Victor (Huntington Beach) south-east corner of Beach and Slater
Sarinana's Tamale Factory
More listings at The Register.
Leave a comment if you know of other places that will be open. Anything listed below here was confirmed in those years and may still be true for the current year but they just haven't been re-confirmed for the current year yet:
---
2011
Here's the places that I know of that will be open on Christmas Day 2011:
Rockin' Baja at Bella Terra in Huntington Beach: 11am - 7pm
---
2010
Kabuki
(not Mexican but I still got an e-mail from them saying they will be open)
Cantina Lounge
: Opens at 8pm
Don Jacinto Pollo Grill near Fairview and Warner in Santa Ana
---
2009
The Fast Food Maven has posted some info for 2009.
Click here
to read it.
---
2008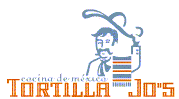 Have been getting a lot of people doing Internet searches lately for "orange county restaurants open Christmas day 2008." As far as Mexican restaurants go the only one I personally know of right now that will be open that day is
Tortilla Jo's at Downtown Disney
. Tortilla Jo's does not have a special holiday menu for Christmas day but they do have an interesting one for Christmas Eve. If anybody (customers or restaurant owners) knows of any other Mexican restaurant that will be open Christmas Day in Orange County please e-mail the info to
reviews@ocmexfood.com
or leave a comment in this thread and the information will be added to this entry.
---
UPDATE
Somebody has just left a comment that the Chevy's in Anaheim Hills is open Christmas Day from Noon - 8pm.
---
Mexican restaurant