Date of Visit:
August 11, 2007
Appetizer
: Chips and Salsa
Entree
: Tequila-Lime Shrimp Fajitas
Drink
: Watermelon Lemonade
Dessert
: Chiquita Sundae
UPDATE: Chevy's has closed down as of late 2011.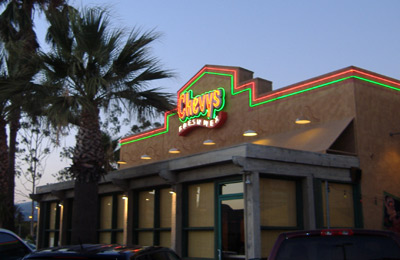 Time for a Chevys review, the restaurant that I thought went out of existence when its Fountain Valley location shut down a few years back. I'd made many visits to the FV location where they always pointed out "El Machino," the tortilla-making machine in the front that mass-manufactured tortillas that seemed like they were made by hand. The last time I remember going there for sure was probably 2001/2002 and it's now a Stonefire Grill restaurant. When it shut down I mistakenly assumed the whole chain had gone out of business.

The saggy sign didn't stop customers from coming
Recently though I realized there was one in Anaheim so I went last week with Anaheim friends James and Lori to get reacquainted with Chevys. If you've never experienced Chevys before just think El Torito with a little more color and a slight Tex-Mex spin and you'll have a pretty accurate idea of what Chevys is like. They were promoting some special summer dishes, much of which seemed to be focused on watermelon. I started out with a watermelon lemonade which was extra refreshing and much less acidic than normal lemonade. Could I possibly convince Chevys to add this as a regular item?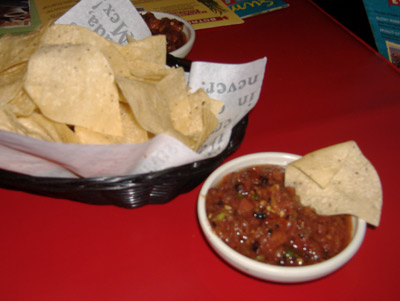 Each of us ordered a different fajita dish with Lori ordering the mixed grill ("Baby back ribs, tender grilled chicken breast, marinated skirt steak, fuego-seasoned shrimp and sauteed San Antonio veggies."), James ordering the chicken fajitas (" A skinless, fresh chicken breast marinated in our own Agua Negra served with sautéed San Antonio veggies."), and me ordering their special Tequila-Lime Shrimp Fajitas.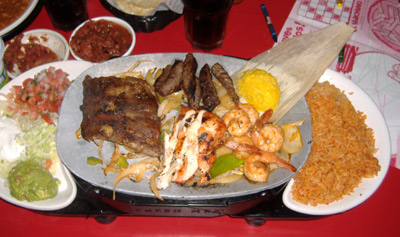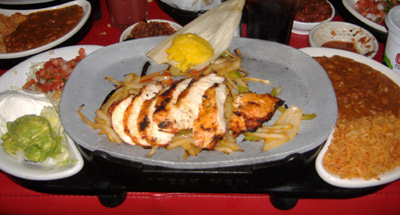 If I could convince Chevys to also add the Tequila-Lime Shrimp Fajitas to their regular menu I'd do that too. The sauce was so flavorful and robust that I was trying to scoop up as much of it as I could with my shrimp before stuffing them into the tortillas from El Machino and making three sublime shrimp tacos.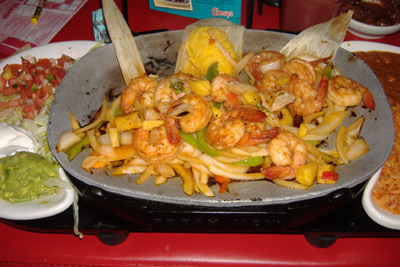 For dessert I ordered their Chiquita Sundae - "Rich vanilla ice cream afloat a sweet cinnamon 'boat' topped with our freshly–made cajeta and homemade chocolate sauces and whipped cream." When James and Lori saw what I got they ordered one too.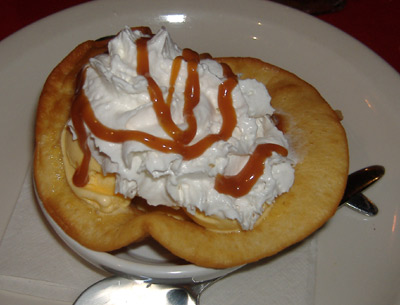 Chevys earns a four Speedy Gonzales rating: