If this is the first time you've been to this blog don't be thrown off by this entry. We still have over a hundred reviews of Mexican restaurants in Orange County but every once in a while I do a "roundup" entry where I mention things that don't fit neatly into an official restaurant review.
Mexican restaurants I've reviewed before and have visited since the last roundup entry for non-review purposes include:
Azteca's
,
Fiesta Grill
,
El Pollo Loco
,
Taco Rosa
,
Taleo
,
Taco Bell
,
Las Barcas
,
Baja Fish Tacos
(where I went for lunch on an incredibly impromptu blind date),
Del Taco
,
Kantina
(who seemed to have recently swapped their eclectic menu out for a more traditional one),
Las Fajitas
,
Molcajete Grill
, and
La Salsa
(who have a new "Chipotle Citrus Salsa" added to their salsa bar and have also recently brought back their Chipotle Shrimp Salad).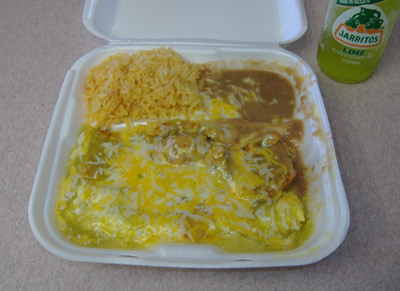 Molcajete Grill Chile Relleno & Tamale Platter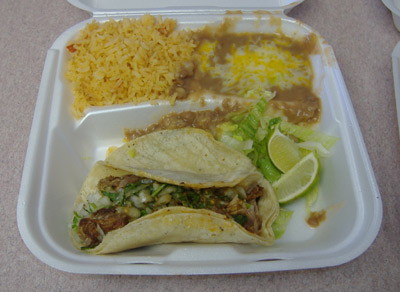 Molcajete Grill Carnitas Tacos
I also visited Wahoo's once for non-review purposes and then the long lasting Wahoo's Non-review Curse was finally broken with
this review
. . . and then I went back again for another non-review visit.
Also, the
Salad Wars
entry has been updated with reviews of at least two more fast food Mexican-inspired salads.
Met up several nights with Cynthia Furey of The Orange County Register, new guest reviewer Johnny (we have a fourth review of his coming soon) and his wife, and new reader Shelly (who found out about this blog from the Register article), at Taco Rosa in Irvine where we enjoyed some great food as well as conversation that never slowed down. I believe Cynthia will be mentioning this visit on her blog. For now, here are a few pictures from our meetup: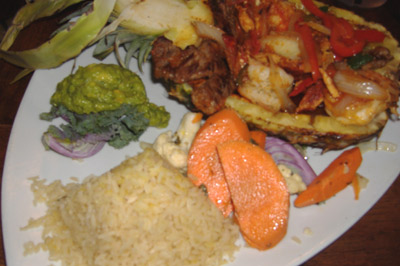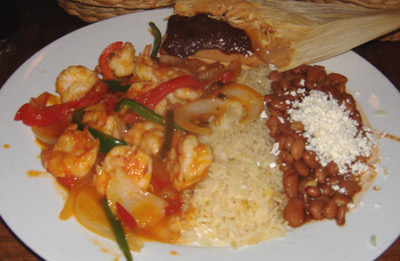 Taco Rosa's Camarones Rancheros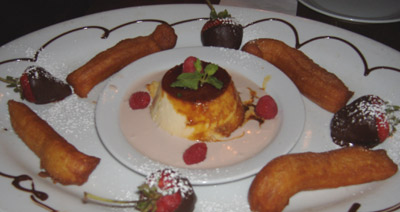 Taco Rosa's Dessert Platter
Non-Mexican restaurants I've visited since the last roundup entry include, but are not limited to:
Kabuki
,
Funashin
,
Aloha Mixed Plate
,
Royal Ocean Terrace
,
Ferraro's at the Four Seasons Maui
,
Longhi's
,
The Wok Experience
,
Tropical Smoothie Cafe
,
Market Broiler
,
King's Hawaiian
(both locations),
Ebisu
,
Gong's Chinese
,
La Brea Bakery
,
Claim Jumper
,
TK Burger
,
Daphne's Greek Cafe
,
Johnny Rockets
,
Kabuki
(again - and they had some new menu items this time - and free edamame for every table now),
Jackson Barne Classic Grill
,
Mandarin Restaurant
, and
Pat & Oscar's
(gotta love those breadsticks).
And here's a reminder of the coupon we're offering (yes, it's legitimate) good for a free appetizer or dessert item at Taleo Mexican Grill: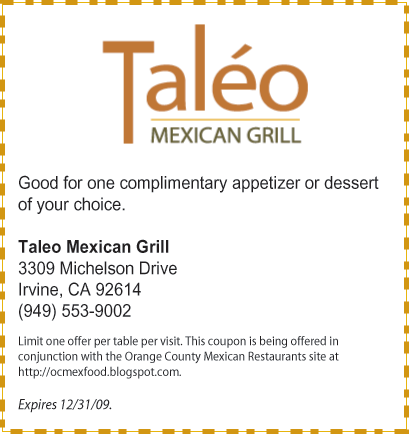 Click Here for Printable Image
Before heading to Taleo be sure to check out our
complete coverage
of them giving an extensive rundown of their menu and environment.