Date of Visit:
July 17, 2007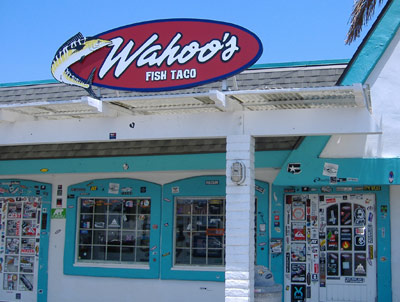 I've been to Wahoo's Fish Taco numerous times since starting this blog, but, to anybody who's been following the roundup entries here you'll know that until now I've never been able to visit any for review purposes. My first encounter (to the best of my memory) with Wahoo's was in 1994 when I attended the Sawdust Festival and ate at the little taco stand there. I didn't even realize at the time that it was part of a bigger chain that was only going to get bigger and bigger (we'll cover their history in a later review).
Filling a work assignment recently near South Coast Plaza I was within walking distance of Wahoo's location on Bristol (which I think may be their original location) so I utilized them for lunch one day ordering the #2 combo, likely their most popular combo as you can get any combination of two tacos or two enchiladas or one of each, selecting a chicken enchilada and a Polynesian shrimp taco. Breaking from form I ordered the white Cajun-style beans instead of their popular black beans. Their cilantro rice is the best rice I know of at any Mexican restaurant and I typically eat every last grain of it, scooping much of it up with my chips. A minor drawback to Wahoo's is that you have to pay for chips and salsa. Shouldn't chips and salsa be complementary? Anyways, their shrimp tacos are a small step below that of the shrimp tacos served at Baja Fish Tacos and Taco Surf but are still worth trying when you want to add a Hawaiian spin to your otherwise Mexican meal.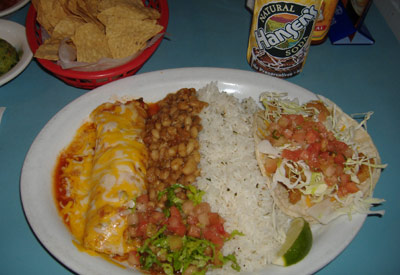 A plus to Wahoo's is that they generally have a wide selection of beverages to choose from out of their refrigerator. On this visit I was glad to see Hansen's Vanilla Cola back in stock after it was missing over my last couple visits.
Expect more coverage of Wahoo's in the future. We will be covering other locations and other menu items. For now they earn a 4.25 Speedy Gonzales rating: