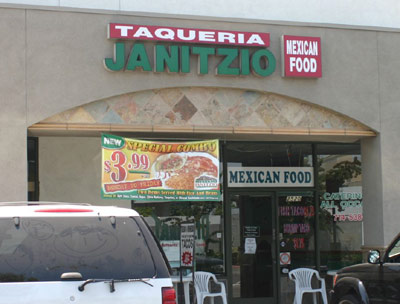 Here's another review from Johnny, this time of Taqueria Janitzio in Orange:
The owner Gabriel Ramirez is originally from the town of Janitzio which is located on an island in Lake Patzcuaro in the Michoacán region of Mexico. Many of the dishes are in the style of this region.

Taqueria Janitzio has an extensive menu of well over a dozen combination platters, 10 different kinds of soft tacos plus sopes, tamals, burritos, enchiladas among other things. They also have specials. When I went they had shrimp tacos and a combo platter of fresh salmon. Most combination platters are in the $6.95 range with soft tacos running $1. Beverages includes regular and Mexican sodas (including Mexican Coke) and bottled beer.

As you can see from the photo they do a $3.99 lunch special that is a real bargain. You get you choice of two items served with rice and beans. You can chose from soft taco, tamal, sope, taquitos, chile relleño or cheese enchilada. I went with an adobada soft taco and chile relleño this time. To start with, they always bring you a little appetizer - kind of their take on nachos - it is a light flavorful salsa, some refried beans and some cooked chiles over tortilla chips. It's a nice start while you wait for lunch. I didn't get that far into my chips before lunch arrived. The chile relleño was a classic style with a good zippy chile, lots of cheese and a medium fluffy batter (which is good - I don't care for the ones that are like an omelet around the chile or the ones that seem just like breading). The adobada taco was really good. Adobada is pork marinated in a red sauce. It was excellent as served and needed no salsa added. They do have a fresh salsa bar with a red sauce, green sauce and pickled jalapeños, carrots and onions. Rice and beans were good but pretty standard. The salsa bar helped spice up the rice.

This lunch served at a sit down chain would probably be $6.95 easily and it would certainly be no better. I would rate Taqueria Janitzio 3.75 with an extra nod to the great value.




Thanks, Johnny!