Date of Visit:
June 25, 2007
Molcajete Grill
19023 Bushard
Huntington Beach, CA

No known official website.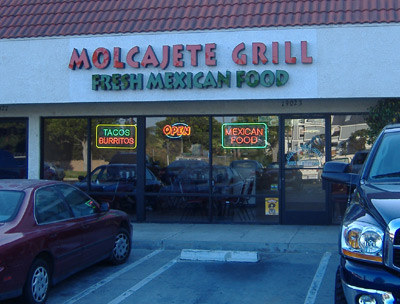 Several entries ago I mentioned that I was going to have a review up soon of the Mexican restaurant I went to the day before my Maui trip. That restaurant was Fiesta Grill #2 and, through some technological glitch, I ended up losing all my photos from that visit. It's not too big of a loss because the menu at Fiesta Grill #2 is the same as at the original Fiesta Grill, and we already have a
review of the original Fiesta Grill
.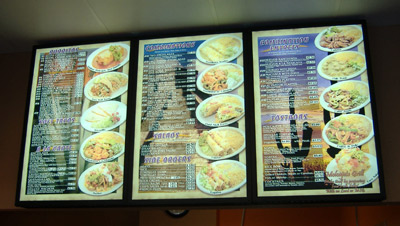 One thing, however, that I found out while at Fiesta Grill #2 was that the owners were about to open another location up that would have a menu about "half the same, half different" from Fiesta Grill and was to be called Molcajete Grill at the intersection of Bushard and Garfield. I made a couple attempts to arrive right on the opening day but found them not-yet-opened each time. On the second attempt, however, I was able to step in and peruse the menu board to get an idea of what I might order on my first visit. I ended up missing the opening day, but my cousin made it then, and then he made it there again the next day, and then I made it on their fourth day of business. BTW, my cousin ("El Amigo de Gringo Bandito") wants to make sure people visit Molcajete Grill because he likes them a lot and doesn't want them to have to shut down due to lack of business.
Speaking of
Gringo Bandito
, yes, they have Gringo Bandito hot sauce on the tables: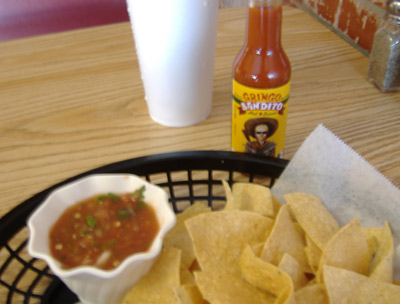 Since
sopes
were an item that Molcajete Grill has that Fiesta Grill doesn't, I had to go for the
sopes
, one carnitas and one chicken with rice and beans. True to their claim, this was some seriously fresh Mexican food. Cold, crisp lettuce, ripe, crisp tomatoes, fresh cheese, and hot, just-right spicy meat. The Spanish rice was especially moist and fluffy, not dried and stale.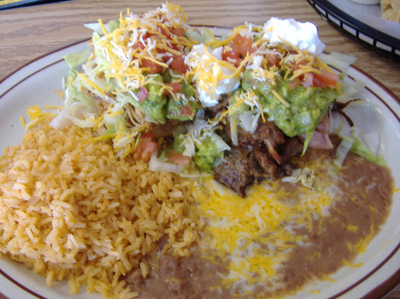 Molcajete Grill gets a solid four Speedy Gonzales rating:




Here's a few pictures from subsequent visits: