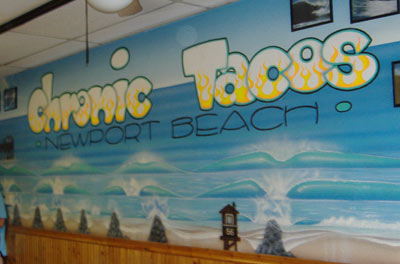 I've been getting an incredible amount of people coming here lately searching for information on "Chronic Tacos." I don't know what caused the sudden surge but it's been so many that I went to the Newport Beach location earlier today (my one other visit was before starting this blog) and my review of them is going to jump ahead of everything else in the pipeline so I can give the people what they want.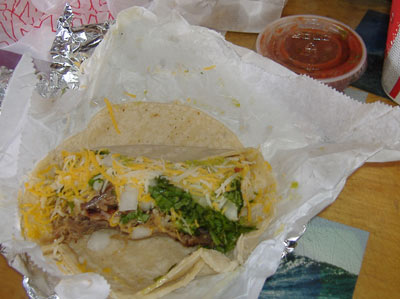 I suspect what the people want to hear about is Chronic's "Fatty Tacos." They aren't named that way because they are only for overweight people but because they are absolutely stuffed with . . . well, the stuffings of your choice. When you order your taco you go through a Subway-like line where you tell the worker just what toppings you want. For my carnitas taco I asked for guacamole, cilantro, onions, and cheese. I watched the whole process of the taco being made yet, somehow, when I opened my foil and paper-wrapped taco to eat it after paying for it there was even more inside it than I saw go in. Every square millimeter of corn tortilla real estate had been sold and utilized with fresh crisp ingredients. I made my dinner a "combo" by paying $1.49 more to add chips and salsa and a soft drink. You can pay a little bit more and make it a "meal" by having beans and rice added.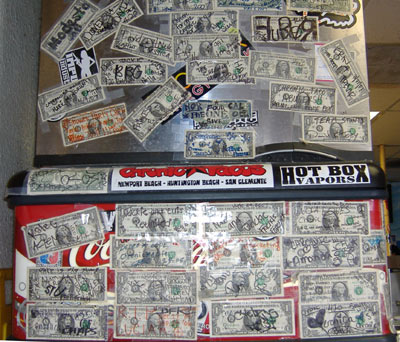 By the way, every order at Chronic Tacos is to go and they don't have much seating, a couple stools inside and the sidewalk outside. And, from my photo above, it looks like you can bring dollar bills in and tape them to the soda machine.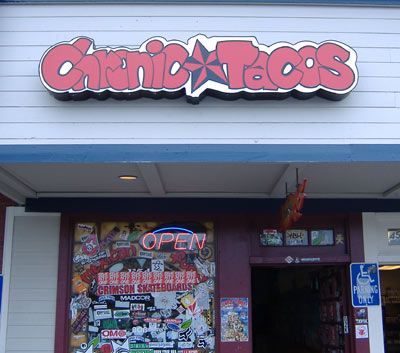 I usually take these exterior shots as I enter a restaurant but this one was taken as I was exiting. There were a couple guys right below where the camera shot who looked like they didn't want to have their picture taken so I had to snap the picture then jump in my Maserati and speed off. So, to the guys hanging out in front of Chronic Tacos: if you never become famous don't blame me. (Okay, so I don't have a Maserati and I didn't have to speed away from there but this was still a good example of guerilla food blogger photography.)
I'm going to do something different for this review and let people comment on how many Speedy Gonzaleses I should give Chronic Tacos. So, if you've eaten there before leave a comment telling what you think of it and how many Speedys you would rate it (up to five). I'm in the 3.75 - 4 range myself.
Clicking on the "chronic" label below will also take you to our review of Chronic Cantina, the big version of a Chronic Taco at Triangle Square in Costa Mesa as well as other Chronic Taco coverage: