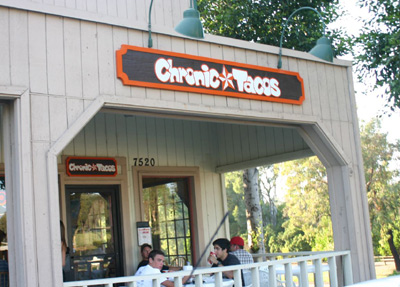 Now I know why people have been doing so many searches for "Chronic Tacos" lately: it's because they have just opened a new location in Orange Park Acres. Guest reader John Olsen aka "Automatic" informed me about it then accepted my commission to go and take some pictures. This is another place so new that no information can be found for it online (until this review goes up); not even the official Chronic Tacos website mentions it.
Here's Johnny's report:
I went to the location that just opened in the East Orange area known as Orange Park Acres. Big long line at about 12:45pm.

This location has ten tables to sit at.

I went with the burrito lunch combo special. Burrito, chips, salsa and drink $6.49 It's enough for for 2 normal appetites. I went with pork al pastor, spanish rice, black beans, onions, cilantro, cheese. Flavors were good with maybe a touch of sweet spice on the end.

Chips were good but I have to give low marks to their regular salsa. It is too sweet with a tomato paste-like base. The salsa of any Mexican place has a big influence on my opinion on a place. For some dishes the salsa is the only thing to judge a place by other than freshness of ingredients. This one tasted like an average store-bought mild salsa that you get in a jar, the cooked kind you find on the canned goods aisle.

This location is drawing big crowds all the time, maybe because of its proximity to Santiago Canyon College or maybe because Taco Bell is the only Mexican food anywhere near by.

Returned at Christian's request to take some pictures. So I returned for dinner with my wife Thea. Thea is a huge cheese enchilada fan and usually that is the first thing she tries at a new place. She did the same here ordering two cheese enchiladas. They make these in front of you like everything else but they don't ask you if you have any preferences. They put shredded cheese and sauce into a corn tortilla, rolled it up and then poured some more sauce on top. Then it was off to the microwave to be nuked to melt it all together. The sauce for the enchiladas suffered from the same problem as the salsa. It is definitely sweet and Thea said it tasted more Italian than Mexican. Indeed I tried a couple of mouthfuls of the cheese and sauce. Without a bite of corn tortilla, it tasted like pizza topping, not enchilada filling. Very strange. I am happy to report that they have a hot salsa also. It is red chile based with obvious flakes of pepper and pepper seeds visible. Adding some to the enchilada lent it a more Mexican flavor.

With these two experiences I would suggest any real Mexican food fans should avoid the mild sauces.

I tried the Fatty taco combo with the beer battered shrimp. It was stuffed with shrimp and after adding some cabbage, onions and the sour cream-based sauce they suggest for seafood, it was a full taco as you can see from the photo. The sauce is a nice choice being creamy and spicy. The shrimp taco had good flavor and I'd order it again. This time I asked for hot salsa to go with the chips and found it to be much better.

You certainly get good quantities of food. I saw a number of people order the nachos, usually two people sharing one order as they are really big. But then everything is good-sized here. I am sure if you are a teenaged or college-aged boy you'll love it here. For us, we found that Chronic does some things very well and somethings not well at all. So that leaves me considering this place a 3 - right down the middle ratingswise.



Thanks, John. To the rest of the readers, we've got another review of John's coming soon.