Date of Visit:
July 5, 2007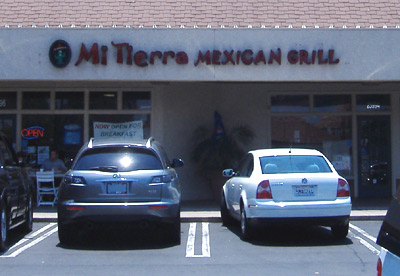 Feeling recently like it was time to follow up on old recommendations,
and
get to a city I haven't covered yet in the blog,
and
get back down to the South County area I found El Sabor de Mi Tierra (or simply "Mi Tierra") in Laguna Niguel to fill all three requirements.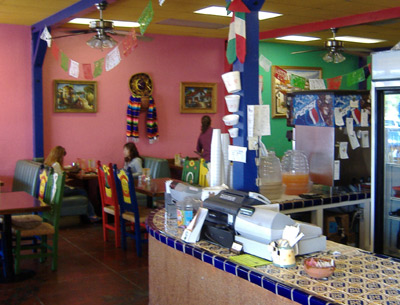 Featuring a colorful dining room with sitdown service for those with time to relax and a takeout counter for those on the go, Mi Tierra serves up some authentic Mexican food at very reasonable prices. My brother came along on this trip and we shared a zucchini flower quesadilla (
quesadilla de flor de calabaza
) as an appetizer, and he ended up eating more of it than me: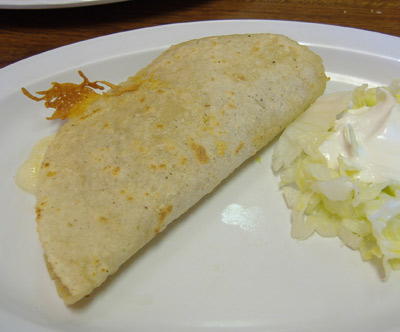 It was a lot more colorful inside than outside.
We both ordered
horchatas
to drink, which were refreshing yet dense so it didn't matter too much that they don't give free refills on their
aguas frescas
. They also had cantaloupe
aguas frescas
that day. I'm not sure if they change their available
aguas frescas
flavors from day to day but I'll probably be ordering the
horchata
again anyway on any future visits.
Mi hermano
ordered a chicken flautas platter with rice and beans as his entree: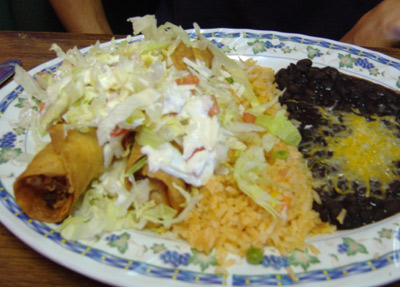 While I ordered the special dish that is offered up every Thursday, the
Pollo con Ongos
(Chicken with Mushrooms), with rice and steamed vegetables: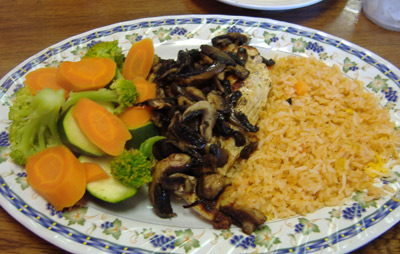 There were so many mushrooms that I think this dish could rightly be called
Ongos con Pollo
(Mushrooms with Chicken). Contrary to my expectations as a mushroom lover I even left a few remaining fungi on my plate, knowing I might have just enough room to sample Mi Tierra's flan. The rice in the entree was standard and the vegetables were almost bland but a little butter and salt fixed that.
I finished the meal off with a slice of the flan, which tones down the caramel aspect and revs up the cheesecake-like texture: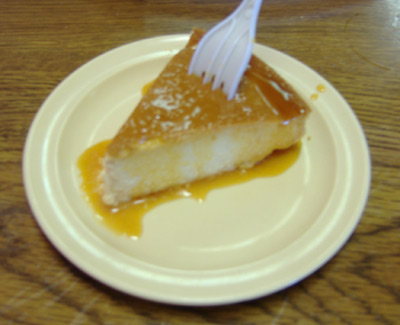 Eat your heart out, Cheesecake Factory.
Mi Tierra earns a 3¾ Speedy Gonzales rating: