Here's my first review in a long time of a place that is not a Mexican restaurant but still has some Mexican items on their menu. The Lazy Dog Cafe is a new chain serving American comfort food in a rustic yet contemporary setting. It has a handful of locations in Orange County with more on the way. The location I have visited twice now is in Westminster, but it's a chunk of Westminster that used to be part of Huntington Beach.
On my first visit I tried the Tex-Mex Salad, made up of, "Romaine lettuce, chicken breast, avocado, corn, tomato, cornbread croutons, BBQ sauce, ranch, cheddar and jack cheese served on a black bean tostada." I ordered the small size and it still filled me up. All the ingredients were very fresh. Perfect lunch for a summer afternoon.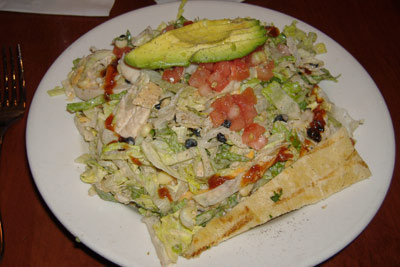 On my second visit I tried the "Inside-Out" Quesadilla, which is basically a regular quesadilla that not only has cheese inside but outside as well. The cheese on the outside is fried to a crisp (I have heard that this cooks all the fat away) while the cheese inside is the typical melted, gooey, stick-to-your-ribs phenomenon. Served with guacamole, sour cream, and fresh salsa and you can add chicken or beef for $2.75 or blackened shrimp for $3.95.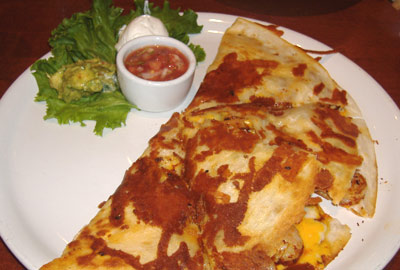 Service was excellent during each visit and I had the Pomegranate Punch each time. I think The Lazy Dog Cafe is going to get a lot of repeat business based on their hospitality alone and double that based on the quality of their food. As I go back and try the couple other Mexican-based menu items I'll add the photos to this entry.