I didn't even realize she was going to do it, but
Shelly B.
did a writeup on the Taco Rosa meetup I
mentioned recently
. Here's what she had to say:
I''m a fellow foodie who loves Mexican food, so I was thrilled when Christian invited me to join him, Cynthia Furey, who writes a blog for the Orange County Register, and two other food lovers to dine at Taco Rosa in Irvine. I met all at the restaurant on a Wednesday night. When I arrived, I was surprised to see that it was packed. I had never been there. The décor and clientele was pretty hip. It reminded me of a few restaurants I had previously visited in L.A. While waiting for a table, I reviewed the Specials Board and noted it offered a Tamarindo Margarita. I had never seen that before so I knew I had to try it and did. It was truly unique. It had somewhat of a tart tamarind flavor that went well with the homemade sweet and sour mix. I highly recommend it.

It was difficult to choose from all the exciting dishes on their menu, but I ultimately decided to order the Chili Relleno en Caldillo and a Portobello Mushroom Taco. Their Chili Relleno was the largest one I had ever experienced. The chili size was very generous and the cheese was creamy. I would have to say that it was one of the best I had ever tasted. I was also very impressed with the selection of tacos. There are ten different ones to choose from. I found them reasonably priced and diverse. I look forward to going back to try more of them.

For dessert Christian ordered a Dessert Platter that we all shared. It included freshly prepared warm Churros. Wow. They were rich, especially dipped in chocolate. I was truly impressed with the Flan de Queso. It was different than any flan I had tasted — it had the consistency of cheesecake. I loved it and would definitely order it again.

Overall, I very much enjoyed the entire experience. It was fun to dine with fellow food lovers. We tried each other''s dishes and had a great time. Thanks for inviting me, Christian. I hope to dine with all of you again at another fabulous Mexican restaurant in Orange County. Your blog is useful and informative.
Thanks, Shelly! Here's the dessert platter that we all shared that Shelly mentioned: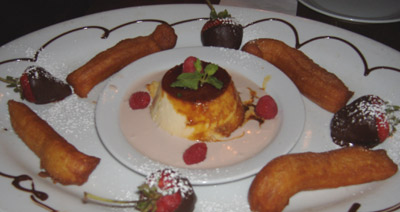 Follow the 'taco rosa' label for all our extensive coverage and dozens of photos from both locations: