Date of Visit:
July 31, 2007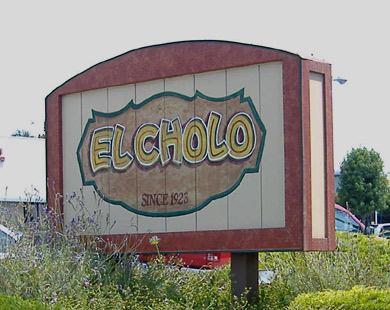 This may have been one of the longest excursions I have taken just to review a Mexican restaurant for this blog. Went out to La Habra the other day, the far north corner of the county (so far north in fact that it's telephone number is in the 562 area code), and met up with
Nancy Luna
and
Cynthia Furey
of The Orange County Register for lunch at Cafe El Cholo, part of the El Cholo chain that began in Los Angeles in the 1920s and currently has two locations in Orange County. This particular location has been around since 1962 which easily makes it one of the oldest Mexican restaurants in the county.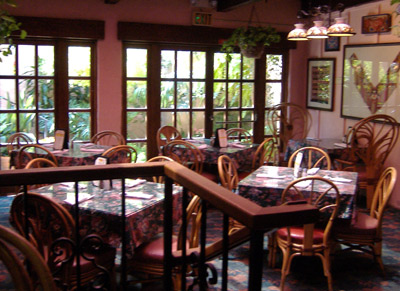 We all went for some type of enchilada platter. Cynthia ordered a chicken enchilada platter from the lunch specials menu: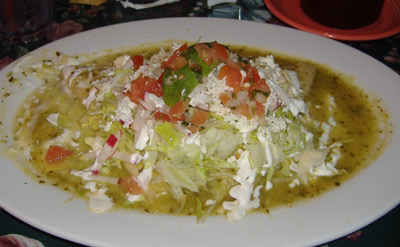 Nancy ordered the Blue Corn Enchiladas: "Marinated Breast of Chicken Enchiladas wrapped with Blue Corn Tortillas, Tomatillo Sauce, Sour Cream, and Avocado Garnish. Served with Black Beans and Rice."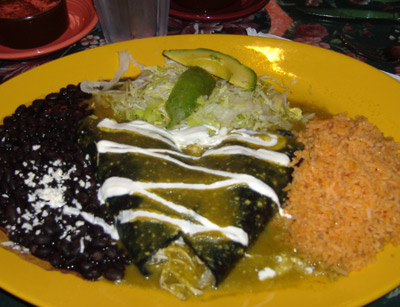 And I ordered the Annie's Early California Enchilada: "Garden Fresh Vegetables, Spinach, Sauteed Mushrooms, and Jack Cheese, Corn and Tomato Salsa." These were excellent vegetarian enchiladas that made me forget I was eating vegetarian food.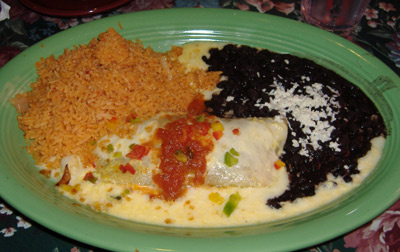 An interesting feature about Cafe El Cholo's website is that their online menu tells you when each item was introduced.
For dessert Cynthia and Nancy shared a pecan praline sundae (the photo doesn't do it justice):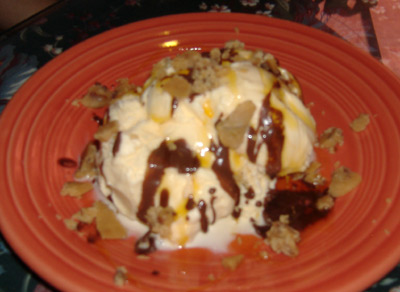 While I ordered the deep-fried ice cream, which was good and filled the dessert role just right but wasn't so heavy that it made me feel guilty of gluttony: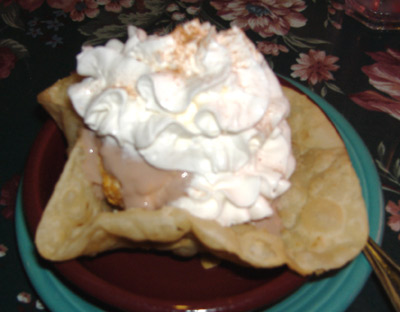 As with the Irvine location each member of the party gets a pecan praline cookie when the check comes: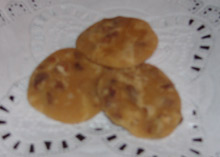 I think you might actually be able to bags of these cookies before you leave. The El Cholo chain is getting ready to open a third restaurant in Orange County, a venture into the fast casual realm. Read an advance report on it at
Nancy's blog
, and you can bet it will be covered in full here when it opens. For now, Cafe El Cholo earns a four Speedy Gonzales rating:




Here's some extra photos: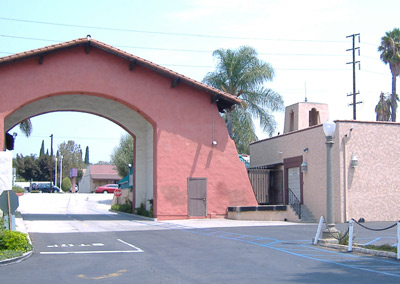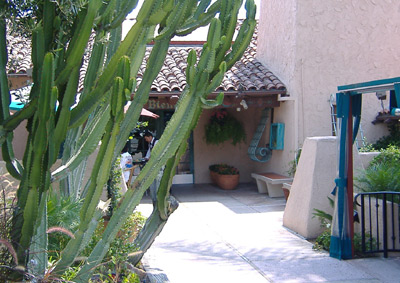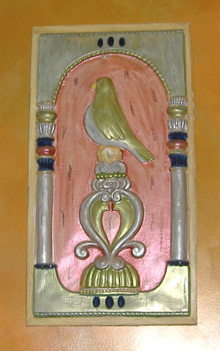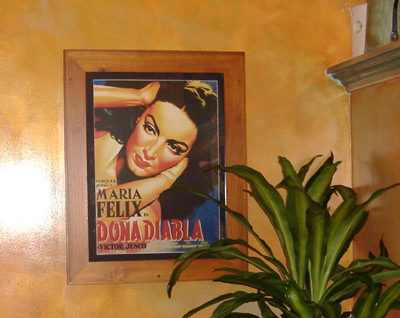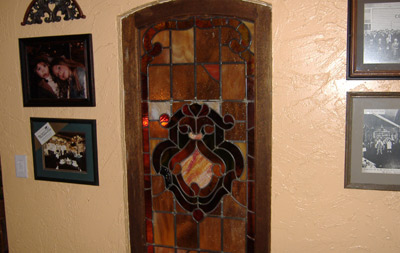 Click on the 'el cholo' label to read our complete coverage of the El Cholo chain in Orange County (we have a separate review for each of their locations):