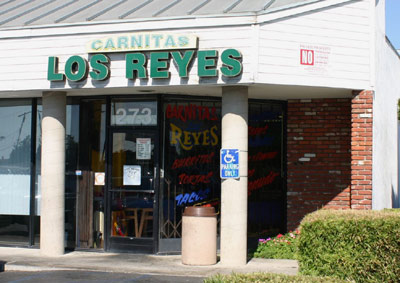 Here's Johnny, our roving reporter on the streets of San Francisco, ehr, I mean the streets of Orange, checking in with his third guest review, this time of Carnitas Los Reyes:
I arrived at Carnitas Los Reyes around 12:45pm and the place was jumping. The first thing that struck me was the ridiculously low prices for the food. Tacos are $1, Tortas and burritos are $3.50. I stood and took in the menu for a few minutes and took in the whole scene. The fillings are all right there in front of you behind the glass partition. So is one of the 5 or 6 people working in the kitchen which is also right out there in front of you. One of the assembly stations is right up front and you can see everything being put together.

After deciding to try an assortment of tacos I went to the side counter where you order. I ordered 4 tacos - one each of carnitas, al pastor, lengua and chorizo. They ask if you want them with everything on them, which I did. You can also get carne asada, pollo and buche for fillings. As I mentioned it was very busy so I had several orders in front of me. I made my order to go. So I just stood near the front counter and watched as orders were put together. The burritos are huge and filled with meat. They look like a great deal. Same goes for the tortas which have the same fillings available. The entire time I waited I was the only "guero" in the place.

I watched them make my order and as I expected "everything" meant a little onions and cilantro and salsa on the tacos. Soon I was handed a bag that seemed too big for just the tacos. Sure enough it had a bag of chips, salsa and some escabeche (pickled carrots and jalapeños). All of this came to $4.31 with tax. You can see from the photo that it is a lot of food. Normally I wouldn't order 4 tacos but I wanted to try an assortment. Next time I think I'll get one burrito or torta. Anyway, it's a tough job but somebody had to do it.

Looking at and smelling all the food while waiting gave me a hint of what a treat I was in for. All four types were just excellent. The flavors of each filling were so flavorful. The lengua (beef tongue) was obviously slowly cooked bringing out the rich beef flavor. If you haven't had lengua give it a try. When prepared right, it is like the best pot roast you ever had but lots juicier than a pot roast. They make it right here. The pork al pastor was rich and heady with a strong spicy barbeque flavor. The chorizo was spicy and meaty and less greasy than most. It seemed to have a touch of the spice mace or some similar spice. Really good and intriguing. I'm still tasting it. Finally the namesake carnitas were just great. Once again, deep flavors that were obviously the result of long, slow cooking with some nice crispy edges. The salsa was a nice light, fresh spicy concoction that went well with the chips. The carrots in the escabeche were a little soft for my taste but this is a minor quibble.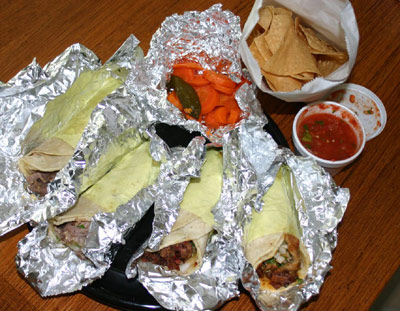 For beverages they carry the usual sodas along with fresh Jamaica (fruit punch) and Horchata along with Tamarindo (but I didn't see that fresh).

This has to be one of the greatest $4 meals I have ever had. Truly, truly great version of down home taqueria cooking. I cannot imagine anyplace that could make it better. For anyone who loves this style of Mexican food let me add my name to the chorus of voices praising this place. Leaving room for fancier takes on Mexican I rate this 4 and 1/4 Speedy Gonzales if only to give Taco Mesa a quarter point more for their great lobster bisque and nicer atmosphere.