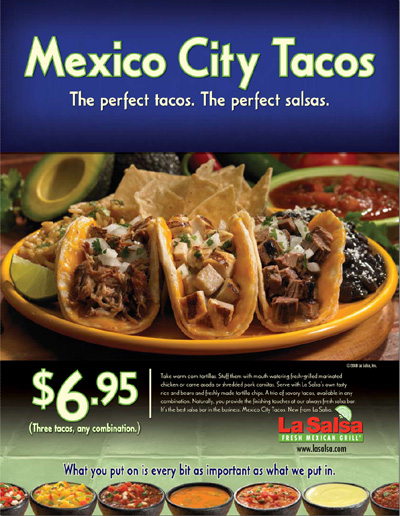 "What you put on is every bit as
important as what we put in."
As announced at the
Fast Food Maven blog
the La Salsa fresh Mex chain is introducing new Mexican Street Tacos this week with your choice of chicken, carnitas, or steak as the meat.
La Salsa has what is probably my favorite salsa bar of all the fresh Mex places, mostly because it has the most variety. And it has several choices which are good for people who are afraid to eat tomatoes now . . . even though I personally trust that all the bad tomatoes are off the market now. You can tell from the picture above that they are proud of their variety of salsas.
They are also putting on salsa making demonstrations today and Wednesday in two OC locations. I'm going to try to make it to the Irvine Center Drive one later today.
UPDATE
So I went to the La Salsa and arrived right at about 11:30. They had the Mexico City Tacos available starting today so I ordered the platter, one taco with each kind of meat available.
After I ordered I took a picture of the salsa making table:
Then I went to the salsa bar and got helpings of several different kinds of salsa. After I got my salsas and was still waiting for my food and the salsa making demonstration a girl came up to me and said I looked familiar. I thought about it for a bit and realized she was somebody who I had worked on several websites with six or seven years ago. Turns out that now she does graphic design for La Salsa and had engineered their whole Mexico City Tacos campaign and did all the related graphics (everything below my tacos photo). She then introduced me to Jeff Clark, the Executive Chef for the La Salsa chain.
When I got my tacos I tried a different kind of salsa on each. The salsa verde went great with the carnitas taco. The mango salsa was perfect on the chicken taco. And the avocado sauce was just the right topping for the carne asada (steak) taco:
Jeff came over while I was eating and I asked him which salsas he thought should go on which tacos and I told him what I had done for my tacos. Andrea overheard us and brought over a card she had made that shows all the kinds of salsa La Salsa currently has (and they will change from time to time) and suggested La Salsa menu items to pair them with: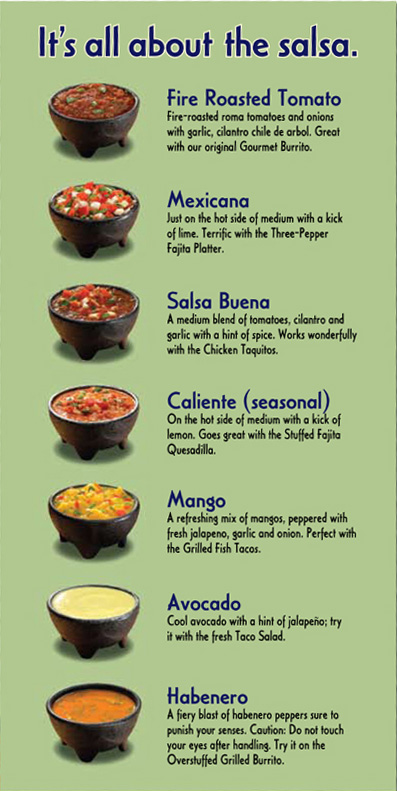 After I finished my tacos Chef Jeff, "the savant of salsa," then put on a salsa making demonstration. I shot video of it and may post it here later, but if you want to see a master at work in person then go on Wednesday, June 18th, to the
La Salsa on Jeffrey Avenue
in Irvine sometime between 11:30am and 2:00pm to watch his demonstration. Jeff and I talked about Mexican food from numerous angles. I told him about the
off-the-wall salsas I've made
and it didn't seem to throw him off. His response was a simple, "Oh yeah, I've made watermelon salsa before." We also talked about what makes Mexican food authentic . . . or inauthentic, as the case may be . . . and came to the conclusion that it's really hard to pin it down to a strict definition. And he knows his stuff, having researched food extensively in travels down to Mexico.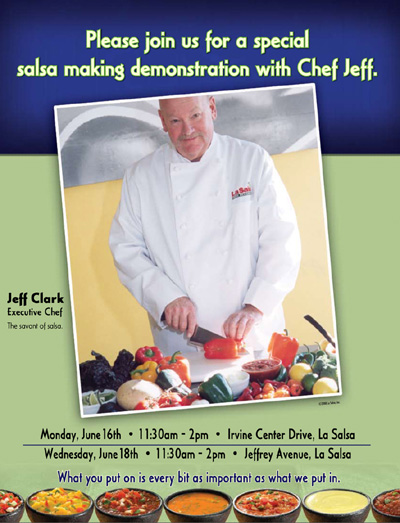 When you go yourself be sure to pick up one of the salsa chart cards because it'll have a coupon on it for a Mexico City Taco for 99¢ to use on a subsequent visit, and be sure to also pick up the separate card with Chef Jeff's salsa verde recipe on it. Also, remember to check out Nancy's
related entry
; I didn't realize La Salsa had been around so long until I read what she wrote.