Date of Visit:
December 8, 2006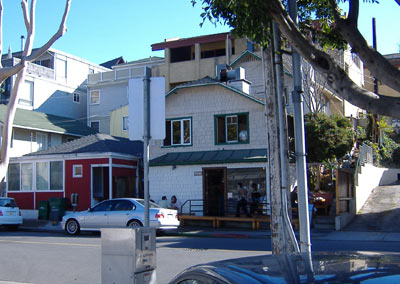 Yes, it used to be a real cottage (the white one on the right)
Yesterday on my birthday I took the day off of work and decided to hit a Mexican restaurant up for lunch (surprise, surprise). I went to my secret list of restaurants to try and was reminded that I've been meaning to get to La Sirena Grill in Laguna Beach. It turned out to be a beautiful day for a drive through Laguna Canyon, one which almost justified the $4 toll I had to pay on the 73 South.
There really is a mermaid here
La Sirena Grill began in 1999 when a family bought an old cottage on Mermaid St. in Laguna Beach and saw it as their opportunity to offer contemporary Mexican dishes. It's no coincidence that
Sirena
is Spanish for "Mermaid."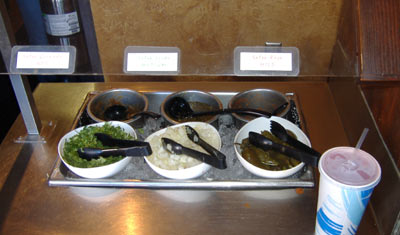 Small but respectable salsa bar
I'd heard this place was small and when I arrived I saw how small it really was. With quarters as cramped as this and lots of friendly people coming to enjoy good food it's hard to not find yourself striking up conversations with perfect strangers, in other words, friends just waiting to be met. So when you go to La Sirena be prepared to converse with some of the other patrons there.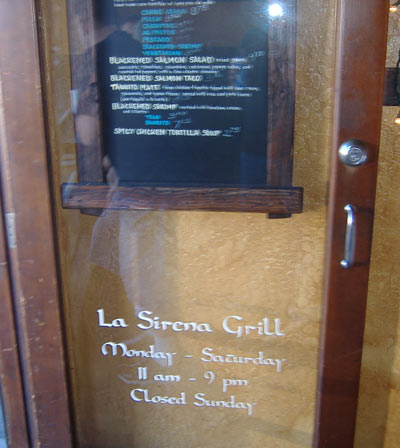 Inside the restaurant there is enough seating for three people at bar stools. Outside I believe there are four tables that seat roughly four each. Parking is also tight. Expect to shovel coins into a parking meter or the pay station across the street, unless maybe you have really good connections with the locals.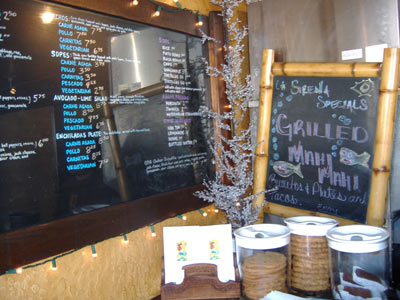 I ordered one of their signature Sirena Plates: "Grilled pasilla chile, herb-marinated bell peppers, onions, and cheese, served over fresh corn tortillas, and topped with
pico de gallo
" with blackened shrimp as my choice of meat (you can also choose carne asada, pollo, carnitas, pescado, or vegetarian). If you like setting your mouth on fire then this is the dish for you. I'm sure most of the spicy hotness came from the pasilla chile which is a huge component of this platter. I was tempted to run in from my outside seating and spray their fire extinguisher into my mouth. My watermelon/strawberry
aguas frescas
helped douse the flames a little bit but I wish they offered desserts here such as flan or deep-fried ice cream which are both good for finishing off a spicy meal.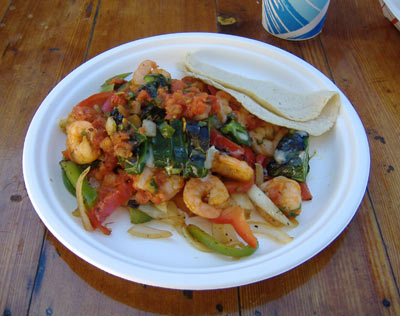 There are numerous other items on their menu I'm looking forward to trying such as their vegetarian quesadilla, and their tortas and sopes. On my next visit I think I will try one of their Avocado-Lime Salads.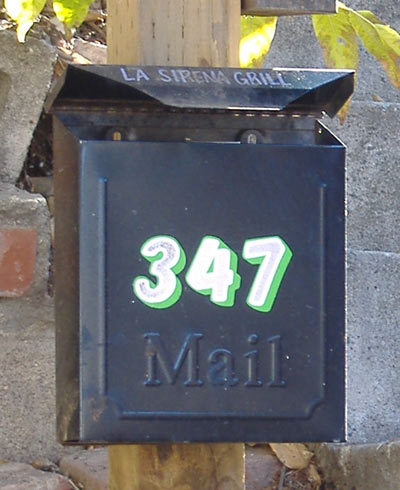 With a mailbox like this how could you go wrong?
La Sirena has a second location (30862 PCH, also in Laguna Beach) which I am told is five times larger and a couple I was talking with told me of a possible coming third location. As usual, anytime we get more such information we will post it here.
La Sirena Grill earns a very solid four Speedy Gonzales rating: