Here's another one of my catchup entries where I discuss things that don't fit nice and neatly into a particular restaurant review.
Taco Time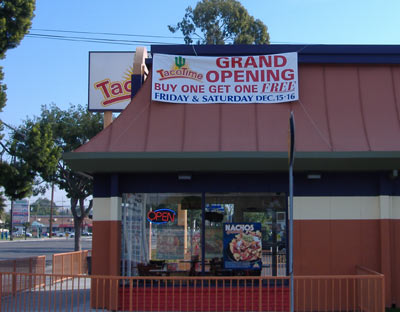 While driving around Garden Grove recently I saw that there is now a Taco Time in Orange County (see
my report
of Taco Time from when I was up in Utah last June). I wondered if it had been there all along but then saw a banner mentioning that their Grand Opening is December 15th and 16th and that they are having a two-for-one sale those two days. So, if you are in the area try to stop by today or tomorrow to take advantage of their grand opening special.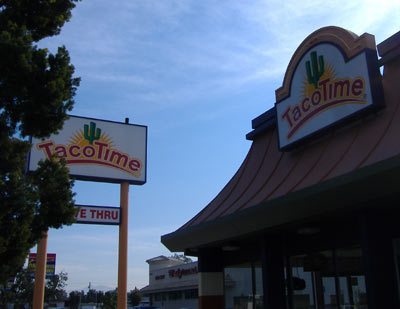 Taco Time
10832 Katella Ave
Garden Grove, CA 92804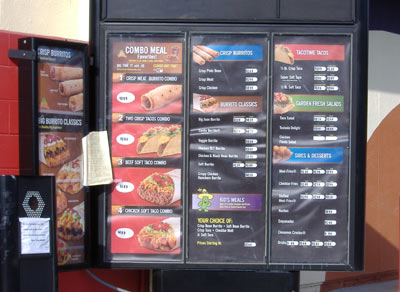 Taco Time Official Site
Restaurant Roundup
Some of the non-Mexican restaurants I've been to since the last roundup include: Kung Pao Bowl (love the paintings on their walls), Angelo's & Vinci's (this place is huge; you could get lost in it), Pagolac, Market Broiler (twice), Cathay Newport (you get a lot of food at a great price), Funashin, Johnny Rockets, Wei's Chinese Restaurant, Kabuki, Broadway Pizza & Grill, Park Ave., Ebisu, Ruby's, and
Frenzy Sushi
.
Frenzy Sushi
Visited Frenzy Sushi last Wednesday night with "Beach," Joy & Carter, "Elmo" from the
Monster Munching
blog, "ChubbyPanda" from the
Epicurious Wanderer
blog, and Nguyen from the
Oh-So Yummy
blog. Our little group of Orange County food lovers is growing, but we still miss having SqueezeOC's Omar along with us. Each of the bloggers present will be posting their own separate review.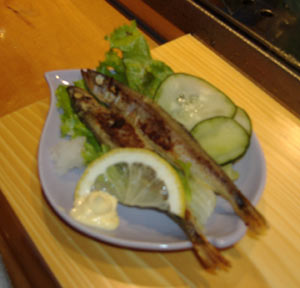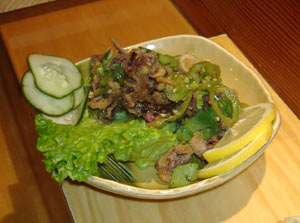 Identify the famous food bloggers: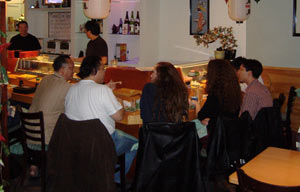 This is the "Sombre-Roll" ("Sombrero" combined with "Roll" . . . get it?), with spicy tuna, avocado, cucumber and jalapenos: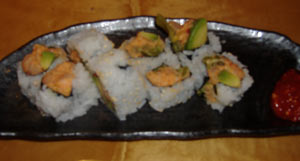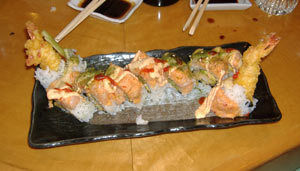 Find out what's featured in this blurry shot in somebody else's review: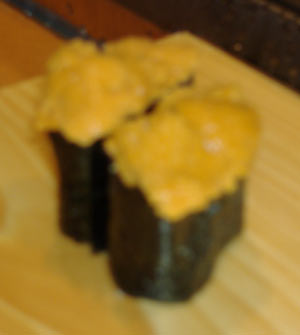 Taleo Mexican Grill
, Gabbi's, Azteca's (the mom and pop place near my mom and pop's place),
Baja Fish Taco
(the location near South Coast Plaza), and El Torito (but this particular visit to El Torito was just for karaoke where I performed "I Will Survive," "La Bamba," "Baby Got Back," and "Islands in the Stream.") Have also been to Ernie Jr.'s Taco House in Glendale a couple of times.