Value, Quality & Choice Top Del Taco's Latest Promotion
(Lake Forest, CA) Nov. 17, 2008 — Del Taco's newest promotion makes going out to eat an easy option for budget-sensitive individuals and families.
The promotion, which begins Nov. 19 and runs through Jan. 6, features a new $2.99 Classic Combo Deal and a new $8.99 Fiesta Pack.
The Classic Combo Deal includes a Classic Taco with double the meat and freshly grated cheese and tomatoes; a Del Combo Burrito packed with slow-cooked beans, seasoned taco meat and Del Taco's signature red sauce; and a choice of drink.
The Fiesta Pack, which is a first for Del Taco, easily feeds a family of four or more, and combines six half-pound Bean & Cheese Burritos and six tacos. Boxed to go, the Fiesta Pack is ideal for tailgating, taking to the soccer field, or to take to a party.
"We know people are watching their budgets, and going out to eat is a choice," said Sharon Fogg, Del Taco senior vice president of marketing. "With our Classic Combo Deal and Fiesta Pack, our fans have an ideal lunch and dinner option that allows them to enjoy the Del Taco experience while watching their budget."
Del Taco TV and radio spots, developed by Doner Advertising, will promote the Classic Combo Deal from Nov. 19 to Dec. 20. In the TV spot, a peculiar assortment of strong characters encourages a young customer to boldly opt for the Classic Combo Deal.
Del Taco's new promotion also includes:
Free hashbrown sticks with the purchase of a Steak & Egg Burrito
A new kind of "gift card," B.E.R.P. (Bold Eaters Revolutionary Party) for the holiday season
Chocolate Fudge Cake
Strawberry Lemonade is being permanently added to the Del Taco menu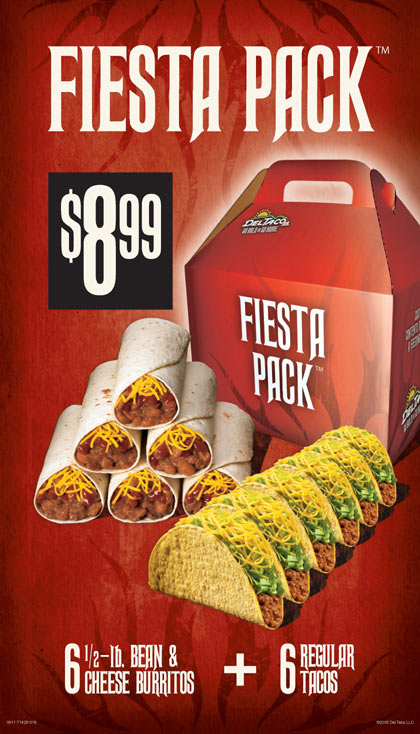 UPDATE (November 22, 2008):
Went to the Del Taco at Beach and Slater for lunch earlier today and they had three other specials:
Taco Trio
The Taco Trio with a Classic Taco, a Taco Del Carbon, a Big Fat Taco and a regular drink for $4.99.
Del Carbon Trio
The Del Carbon Trio with three Tacos Del Carbon, chips and salsa, and a regular drink for $5.99.
Macho, Macho Combo
The Macho, Macho Combo with a Macho Taco, a Macho Chicken Verde Burrito and a large drink for $6.99.
More information on the Del Taco deals, including a YouTube commercial, can be found at the
Fast Food Maven blog
.