Saturday and Sunday Brunch
Beginning last week Taleo Mexican Grill at the Park Place Center in Irvine is offering a brunch from 11am - 3pm every Saturday and Sunday. Entree items include the Chorizo con Huevos:
or the Huevos Americanos:
Other entrees include the Huevos Rancheros (I'll be trying them on my next visit) and Huevos Mexicanos. All entrees come with cilantro lime rice, black beans, and your choice of corn or flour tortillas. Kids can even get Speedy Gonzales pancakes at brunch time. For making Speedy Gonzales pancakes Taleo earns five Speedy Gonzaleses:





Thanksgiving 2008
I've mentioned each November for the last couple years that Taleo is offering its seasonal items once again for the months of November and December. The centerpiece is their turkey tamales in yellow mole sauce, topped with cranberry sauce, and served with a side of spinach:
For dessert they have brought back their sweet potato flan: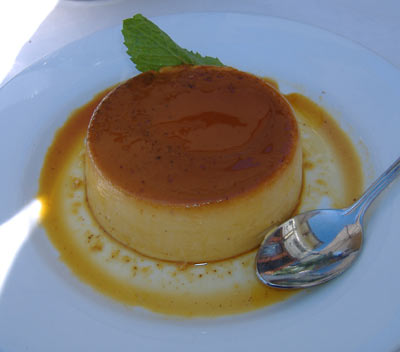 But beginning in 2008 they are also offering Thanksgiving dinner packages for pickup.
Click here
to read information on their Thanksgiving meal deals.
---
Coupon
We are pleased to offer a coupon in conjunction with Taleo Mexican Grill in Irvine good for a complimentary appetizer or dessert item of your choice.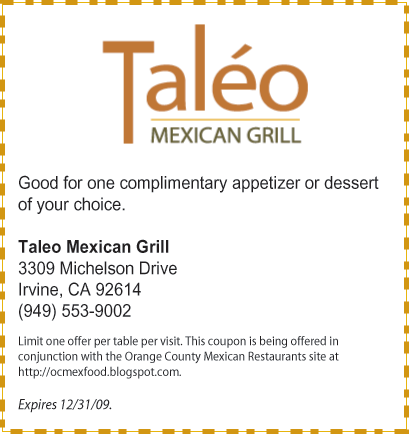 Click Here for Printable Image
---
Click
HERE
or on the "taleo" label below to read all our coverage of Taleo Mexican Grill, including the especially big "Deluxe Review" with extensive photos and food descriptions:
Taleo's Official Website