Today is the 3rd anniversary of the beginning of this website. It started out as my own random, personal musings on Mexican food I've had and has grown until there are now more than 200 reviews. The site will continue to grow and cover more and more Mexican restaurants and food within the Orange County border (from taco trucks to upscale dining) and will be adding new features as well. At the moment I have at least six entries to finish up and post and there'll also be more guest reviews. And if I really succeed at my "job" here I'll be able to arrange things so that new visitors will not be afraid to click around the site, do a little exploring, and find the information they need. Getting people to simply "click a link" has been a monumental task here.
As always, feel free to leave comments with suggestions about what can be improved here.
---

On another note, I've mentioned Frieda's produce here before but just found out that they have a new Garlic Delight product available at González Northgate Markets, Stater Bros., and Gelson's throughout Southern California. "Available in four varieties - Original, Chipotle, Sun Dried Tomato, and Green Olive, Garlic Delight is 100% preservative-free and made with simple, natural ingredients: canola oil, USA-grown fresh garlic, lemon juice and salt. It's also cholesterol-free, dairy-free and gluten-free and contains no trans fats." Obviously, the Chipotle variety would be of interest to those cooking up Mexican dishes.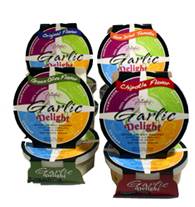 Frieda's Garlic Delight™ Press Release Page