Tacos El Chavito
Morgan Lane (Monday thru Friday)
Queens Lane (Saturday & Sunday)
Huntington Beach, CA 92647

No known official website.


(This is
NOT
the only taco truck in OC we have covered. Click
HERE
or on the 'taco truck' label below for our complete coverage of Orange County taco trucks.)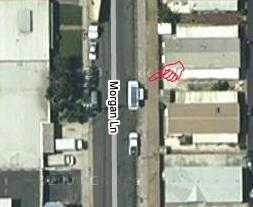 Having been helping out
Francisco's Automotive
recently with their website venture I made a stop about a week ago at a nearby taco truck. You can see a satellite photo of this truck in the image above.
El Chavito's signature thing is selling two tacos for one dollar. They've got numerous kinds of meat to choose from, including "safe" (by gringo standards) meats and "adventurous" ones.
You give your order to the owner who is inside the truck who pokes his head out of the little window like the gatekeeper to the Emerald City of Oz.
Francisco himself got his usual carne asada torta:
I ordered a pescado, a buche, and an al pastor taco. Perhaps they are used to making tacos only in multiples of two because in addition to the three tacos I ordered they threw in a carne asada taco as well.
Made with tender, finely chopped meats, topped with fresh cilantro and onions and a red salsa and garnished with lime, carrots, and radishes these tacos are inexpensive yet flavorful, priced to satisfy any size appetite. I was fine with four tacos but could see some people getting six or eight or more.
UPDATE:
Here's a picture from when I went back and got a lengua, a carne asada, a carnitas, and an al pastor taco and a pineapple agua fresca:
The grand total for it all was $2.
UPDATE (May 18, 2010):
El Chavito just debuted a new truck: