This is earlier than I wanted to do another roundup entry but I have a number of little things to mention:
A handful of Mexican restaurants will be participating in the 14th Annual Taste of Anaheim on May 14th at the GardenWalk. Official Site
The OC Register's Fast Food Maven has a new blog entry about her visit with the CEO of Real Mex Restaurants.
Not Mexican related but I did get an e-mail stating that the Irvine Spectrum is now offering Wi-Fi service; I think it works if you're at the Rubio's in their food court
The 16th Annual Share Our Selves Wild and Crazy Taco Night will take place on Thursday, April 30. I'm hoping I'll be able to cover it. Official Site
The current issue of Orange Coast has more info about local Mexican restaurants than usual, including some that have been covered here, some I've eaten at and need to write up the reviews for and some I'm hoping to get to soon.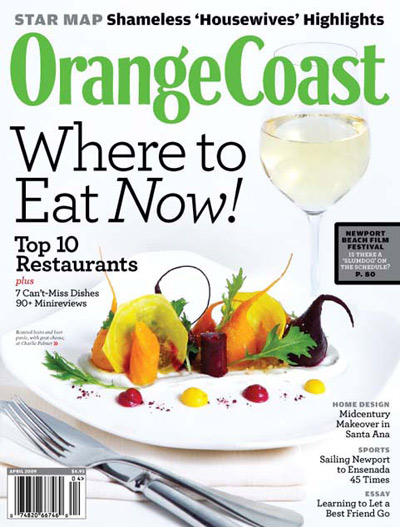 Mexican restaurants I've eaten at for non-review purposes since the last roundup entry include:
Tacos & Co.
,
El Farolito
,
El Pollo Loco
,
Azteca's
,
Cocina Cucamonga
,
Sharky's
,
Taleo
,
Taco Rosa
,
Alexa's
,
Anita's
,
Molcajete Grill
,
Del Taco
,
La Sirena Grill
,
Ernie Jr.'s Taco House
,
Rubio's
,
El Torito Grill
,
Taco Bell
,
Wahoo's
,
Taco Factory
. But when is an OC Mexican restaurant going to add this to their menu:
Speaking of adding things to menus La Salsa just added a Green Chile Chicken Burrito: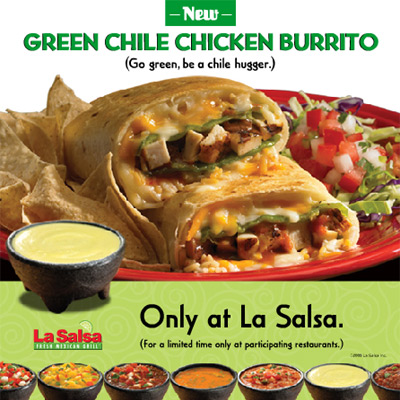 Non-Mexican restaurants I've eaten at since the last roundup entry include: Funashin, Chick-Fil-A,
Rockin' Crepes
, Duke's at the Pier, Go Roma, Ebisu, Bengal Barbecue, J&J's House of Subs, Dave & Buster's, Athens West, TGI Friday's, Panera Bread, Lucille's Smokehouse BBQ, StoneFire Grill, and
The Chippy
.
In the roundup entries I tend to put some of the funny Internet searches that people do that lead them to this site. Here is the latest batch:
"how to win a taco eating contest"
"abandoned warehouse in orange county ca"
"purple picked mexican food"
"does taco bell cater?"
In answer to the question, "Does Taco Bell Cater?" I would say, "No, but they do
host weddings
."
After watching the video you can read about Taco Bell's latest Crime of the Week at the
OC Weekly
.
Longtime readers may remember that I try to take April of each year off from going to Mexican restaurants for review purposes so I can (try to) tend to various maintenance issues on the blog and catch up on my backlog of reviews. This April is no different but rest assured there's plenty of new content coming. Thanks for your faithful readership.