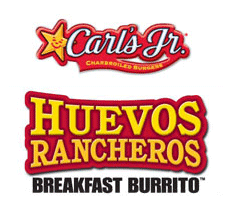 "Scrambled eggs, refried beans, shredded Jack and cheddar cheeses, crisp tortilla strips and Ranchero sauce wrapped in a warm flour tortilla."
Carl's Jr. has had this item for a month or two now but the
recent death of chain founder Carl Karcher
spurred me on to finally trying it. Everybody else at the location I went to this morning seemed to be ordering it too (although the Mexican food lover inside me got a little disturbed when one girl asked for ketchup for it and had this look on her face that clearly indicated that she had no idea what "salsa" was). Devoted readers of the blog here know of my love for
huevos rancheros
and Carl's has just made
huevos rancheros
a little easier to eat when you're on the run.
CLICK HERE for a Coupon