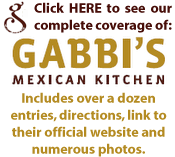 Sometimes I wish I could clone myself and more quickly try out new Mexican restaurants and make more frequent visits to the ones I already know I like. But as a mere mortal there's restrictions on my movements and those restrictions currently make it hard for me to get to Gabbi's Mexican Kitchen in Orange as often as I'd like. After almost three months away though I did what it took to get back there for a quick lunch where I tried their
Sopes Surtidos
platter with one chicken mole sope, a beef one, and a chorizo one. This dish comes from the appetizer menu so I rounded it out with a cup of
Sopa Tlalpeño
, "Chicken soup with vegetables, garbanzo beans, avocado & cilantro." The combined heartiness transported me from Orange County to a rustic ranch in central Mexico where after a long day on the range you could head back home, kick off your boots, and fill up on some real food made with an extra helping of tender, loving care.
It might be hard to tell what's in the next picture but it's warm apple cobbler
a la mode
with a big cookie sticking in the center of it. I heard about this Winter-oriented dessert several months ago and finally got to try it. On a day that was colder than any day in the preceding week this dessert transported me from the aforementioned Mexican ranch to the snow-covered mountains, where after a long day of skiing or snowboarding you return to a log cabin, kick off your boots, and warm up with some cobbler prepared with lots of tender, loving care in a Dutch oven and heated in the fireplace. And then I snapped out of it and realized it was time to head back to my work at a desk making websites...
While there I talked with Gabbi herself for a while and she told me the apple cobbler is about to disappear from the dessert menu and soon be replaced with more Spring-oriented desserts such as passionfruit souffle and white chocolate berry
tres leches
. Looking forward to trying those...
Gabbi and I also talked about a couple other Mexican restaurants in the county and found out we think alike on each one we discussed. We also agreed that sometimes you've just got to get away from Mexican food and have some good sushi.
Click on the "gabbi's" label to see all our extensive coverage on this key Mexican restaurant: