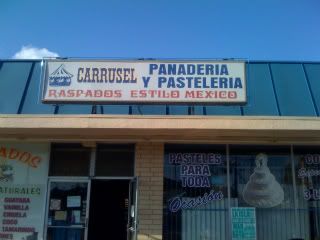 Here's another entry reprinted with permission from Griffin's blog:
In Mexico they have a treat called a "Raspado." When this was first described to me, I was told that it was like Mexican ice cream. I later came to find out that it is less like ice cream and more like a snow cone. The main difference between a Mexican raspado and a snow cone are the toppings. Snow Cones in the U.S. tradtionally come with super sweet, syrupy, artificially flavored liquid poured over the top of shaved ice. These are good....until you have a raspado. Raspado toppings are made with much better ingredients like fresh fruit and milk. The result is a decadent shaved ice that is just as cheap as the syrupy goop you grew up with.




My favorite raspado combination is Vanilla, "Nuez" (Nuts, I think it's almond and pecan) and "Coco" (Coconut). A medium set me back $2.50. Other available flavors include strawberry, guava, peach, plum, bubble gum, tamarind, pineapple, mango and more.
Read the full entry at
Griffin Eats OC