Here's another entry where I cover some stuff that doesn't fit neatly into a standard restaurant review. If this is your first time here don't let this entry throw you off; we really do have tons of reviews of Mexican restaurants, in fact almost 200, so just keep scrolling down.
Mexican restaurants I've been to for non-review purposes since the last roundup entry include:
Molcajete Grill
,
El Pollo Loco
,
Azteca's
,
Zorrito Mexican Grill
,
Taco Adobe
,
Taco Rosa
,
Tia Juana's
,
El Torito Grill
,
Chipotle
,
Wahoo's
,
Del Taco
,
Baja Fish Tacos
,
Cancun Fresh
(which is now under new management),
Tacos & Co.
,
Blue Agave
,
Taleo
,
Las Barcas
, and
Mario's
.
Here's some photos from my last Blue Agave visit, a place I wish I could get to more often:
Non-Mexican restaurants I've been to since the last roundup entry include but are not limited to:
Ebisu
,
Cafe Chin Chin
,
Athens West
, Genghis Khan Mongolian BBQ, Maki Yaki (they've got good California rolls),
Tommy Pastrami
,
Dave & Buster's
,
River Belle Terrace
,
Maui Wowi
,
Red Robin
,
Claim Jumper
,
Newport Rib Company
, and
Cafe Hiro
.
Wild and Crazy Taco Night 2008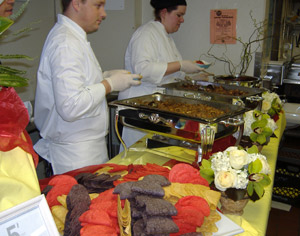 There's a new Wild and Crazy Taco Night charity event put on by Share Our Selves coming up soon (April 17) that I should've mentioned earlier. This is where gourmet chefs from throughout the county cook up exotic tacos with all proceeds going to help the homeless. A VIP package is available for the first time this year. I've been twice before and there's always a lot of people there.
Official Site
Read our 2006 and 2007 coverage
Fun with Search Engines - Part Dos
A while back I had an entry where I showed some of the funny search phrases people have stumbled into this site with. Here's a small sampling of some more funny ones from the recent past:
"how many people like mexican food?"
"foot long taco dough"
"amount of grease on fries"
"why are del tacos across the street from each other in lake forest?"
"what did blacksmith's in the 1900's specialize in?"
"mexican food and why they made it"
The State of the Blog
As I did last April I am going to
attempt
to take the month off from personally going to restaurants for review purposes. There will still be content coming,
at least
one new entry a week, but if you've been thinking about doing a guest review now is the time to get it written up and submitted and put yourself on the fast track to fame and fortune. During this month I am going to try to do a lot of work on the site, some that will be obvious and some that will be behind-the scenes. When I first started the site it was for my own personal musings on places I've eaten at, but now, more than two years later, it has become something like an official resource and that means having to handle everything more professionally.
Last, but not least, please feel free to leave comments on any entry on the blog, no matter how old. When I go to a restaurant I can only report on my experience and on the food I ordered. When your comments are added to an entry here it increases the value of that entry for future readers.