This has little to do with Mexican food but I've noticed people searching recently for information on Del Taco's Orange & Cream shake. I thought it was a random spike of Del Taco fanatics waxing nostalgic for the days when this item was offered but I just barely found out that Del Taco has brought it back. Going to have to get me one soon.
Del Taco Orange & Cream Shake Official Page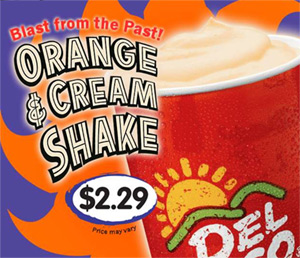 It always makes my day when a Mexican fast food chain brings back a favorite drink of mine. I'm still waiting for a couple other chains to bring back drinks I used to order often.
Del Taco is also promoting their new Savory Shredded Beef items (burritos, tacos del carbon, breakfast burritos) and offering coupons on their
front page
.