Date of Visits:
April 9 and 12, 2007
Taco Rosa #2
On the Irvine side of
The Tustin Marketplace
13792 Jamboree Rd, Suite 42
Irvine, CA 92602
(714) 505-6080


Disambiguation
In analyzing the site traffic here I've noticed that people often search on the following names of non-existent restaurants in Irvine, Tustin, or Newport Beach:
Casa Rosa
Taco de la Rosa
Tia Rosa
Rosa's Tacos
Rose's Tacos
Choco Rosa
La Rosa
Tacco de Rossa
Zona Rosa
Taco Rose
Tacos Rosas
Taco Rosie
So, if you are searching for any of these, especially if you are trying to find them in Irvine, Tustin, or Newport Beach, it is probably "Taco Rosa" that you are looking for, and if that is the case you have come to the right place. Just be aware that what you are reading now is only one of our reviews on Taco Rosa. After you finish it you will want to click
HERE
or on the "taco rosa" label at the bottom to see all our extensive coverage and dozens of photos of Taco Rosa and their food.
Breakfast served daily from 8 - 11am
Menu Selections on Visit #1:
Free Appetizer
: Churrito
Entree
: Machaca Platter
Drink
: Fresh grape juice
Menu Selections on Visit #2:
Free Appetizer
: Churrito
Appetizer
: Papaya Tropical
Entree
: Pancakes de Chocolate
Drink
: Fresh grape juice
Okay, here's some more coverage of my favorite Mexican restaurant: Taco Rosa's second location which is so new their official site doesn't even mention it (yet) and no online directory services list them (yet). I've already been about six times since they officially opened and they seem a little busier each time . . . which is why I try to go at off-hours, say 1:30pm for a late lunch or 4:30pm for an early dinner (not both on the same day though). Some of the staff gained experience at the original Taco Rosa location in Newport Beach but there are some greenies here who are still learning the ropes. I'm mentioning this because I've seen some rumblings elsewhere on the web complaining about the service and I'm saying, "Give them a chance." It's a brand new place and I've been possibly more than any other single person and have had only minor problems and everyone was always willing to do what they could to make things right. Having worked a few years in food service and dealing with many rude customers I try to be as forgiving as possible with people serving
me
food now, especially when I see they are genuinely trying.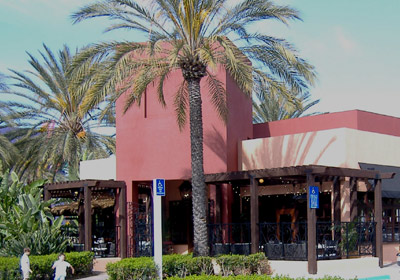 I have also learned from my experience with this blog that new restaurants generally like to have a six month breaking-in period before advertising themselves far and wide, so keep in mind that all my Taco Rosa #2 trumpeting here may be a little premature. Having said all that, odds are still in your favor of having a very worthwhile experience.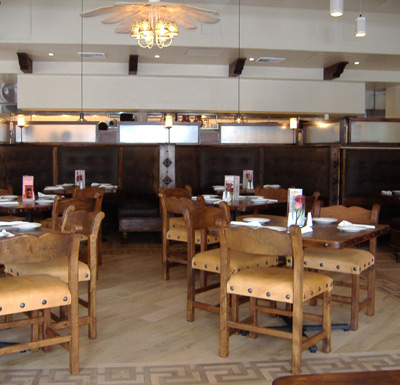 So, what more is there for me to cover about Taco Rosa? Well, this second location is now serving breakfast every day of the week. Their breakfast menu appears to be drawing from both the
Taco Mesa
breakfast menu and items from the Sunday Brunch at their original location (see end of this entry for a complete list of their breakfast entrees) with a few items never seen before.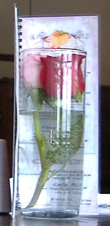 This location has actual roses on the table
I was wondering if they would offer a breakfast version of their complimentary botanitas and we're all in luck because they do. After being seated you are brought a little churro (I'm not sure if I'm coining a Spanish word here or not but I'm going to call it a "
churrito
") with a cup of chocolate to dip it into. This is like getting dessert before your meal. The chocolate comes from their ever-blending chocolate fountain.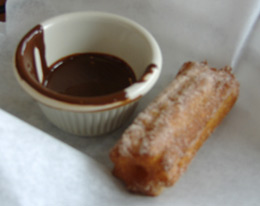 They have twelve breakfast entrees to choose from and I bypassed my usual temptation to get
huevos rancheros
for breakfast and went instead for the
machaca con huevos
platter: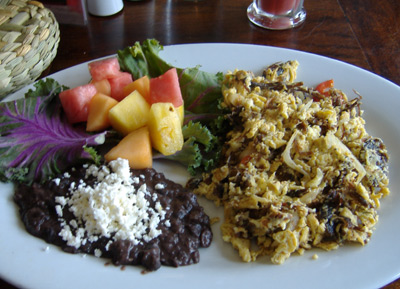 This dish, according to the menu, is comprised of, "Slowly dried shredded beef seasoned with pepper, onion, and tomato, [and] grilled with scrambled eggs. Served with pinto beans
de la olla
and hand-pressed corn tortillas." You also get some fresh fruit that the menu doesn't mention. So you already have your first of five servings of fruit you're supposed to have everyday. If you want another serving of fruit you can order the
Papaya Tropical
with lime as a side:
On those days when the little kid in you comes out the "Pancakes de Chocolate" hit the spot: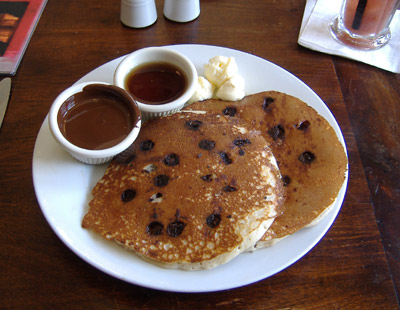 All the breakfast entrees are reasonably priced. The most expensive one is $8.99. And they now have their excellent fresh squeezed grape juice (as well as apple, orange, carrot, and pineapple juices) every day.
And what rating do I give Taco Rosa now? What else? Five Speedy Gonzaleses:
Breakfast Entrees:
Huevos Al Gusto
Chilaquiles Zona Rosa
Burrito a la Mexicana
Burrito Toluca
Huevos Rancheros
Buenos Dias Quesadilla
Machaca con Huevos
Steak and Eggs
Omelette de Mariscos
Pancakes de Chocolate
Read ElmoMonster's Review
UPDATE (August 7, 2007): Here's the Chilaquiles Zona Rosa I ordered on a recent visit: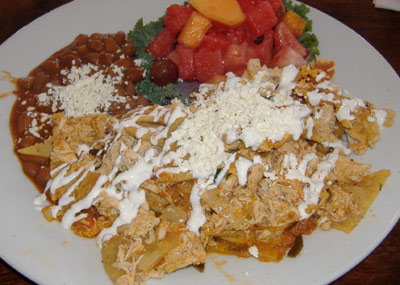 This is made up of "Crispy tortilla strips sauteed with our Zona Rosa sauce, dressed with crema and queso fresco, cilantro and onion. Served with pinto beans and fresh fruit." I added chicken breast for an extra $2.00.
If you just finished reading only "Taco Rosa - Review #10 (Breakfast)" then you will want to click
HERE
or on the "taco rosa" label below to see our complete coverage (including dozens of photos) of both current Taco Rosa locations: