Date of Visit:
March 23, 2007
A couple weeks ago after joining a big group in helping a couple girls from church move to different spots within Huntington Beach we had to decide where we were going to fill our hungry bellies afterwards. The first option considered was pizza. Then I threw out Harbor House as a suggestion and everyone went for that idea so we headed over to there and found out there would be quite a long wait. While the rest of the crowd waited at the Harbor House, Dave M. and I walked over to the nearby Taco Surf and found there was no wait so we got the rest of the group to follow us back over there. The Taco Surf guys were nice enough to serve our group even though they were just about to close. Not realizing I'd end up at a Mexican restaurant I haven't reviewed yet I didn't have my camera with me so the pictures were taken by Dave with his camera phone. They are not the clearest photos but I like their moody, colorful, impressionistic atmosphere.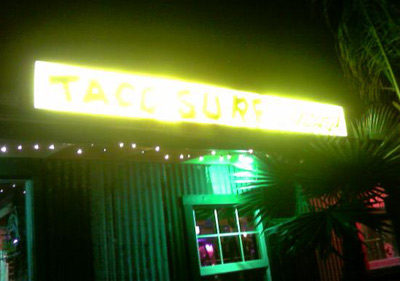 Taco Surf's official website says in one spot that this location is in Sunset Beach but says in another spot that it is in Surfside. Their Yahoo! Local listing says they are in Huntington Beach while their Citysearch listing says Surfside. So I asked our server which of the three it was and his response was "Surfside." I'll take his word for it.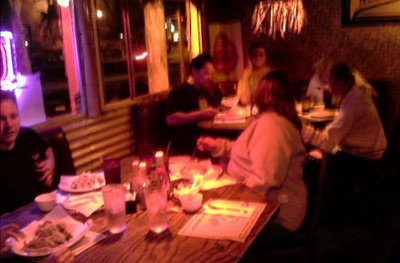 Our group consisted of me, Dave (the one who told me about
Fiesta Grill
), Amy (making her first appearance since the
Taleo Deluxe Review
), Mikey (who's been present for a couple prior reviews), and Rhett, Kathy, Liz, and Paul who had never been along for any of my reviews before.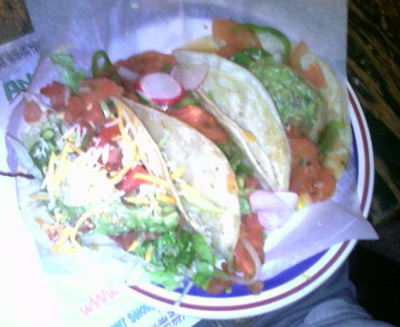 While I'd been to Taco Surf several times before I had never tried their shrimp tacos that a couple of my friends rave about constantly so I knew it was time to finally try them. Taco Surf's Ensenada Shrimp Tacos come in "Double wrapped corn tortillas topped with melted cheese, grilled shrimp, sautéed veggies, Signature Spicy Baja sauce, fresh cilantro and guacamole." Their menu even says that they are "Poncho's Favorite." I guess Poncho is one of their employees. After trying one of these tacos I have to say that I think they are on a par with the excellent shrimp tacos served by the small Baja Fish Taco chain.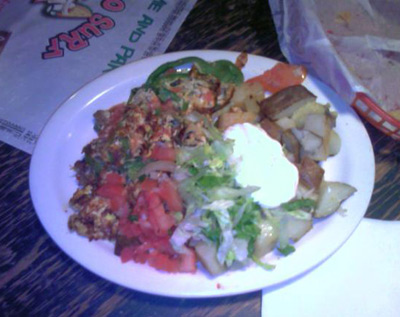 And everyone was jealous of Paul's tasty looking machaca plate, seen above. I know what I'm getting when I go back: the machaca plate with a shrimp taco on the side.
Taco Surf earns a four Speedy Gonzales rating: