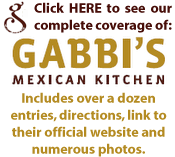 Met up last Saturday with the food blogger known as "Wandering Chopsticks" who had told me at a prior blogger meetup that she loves Mexican food but that her friends and family rarely will agree to go eat Mexican food with her. I asked if she'd like to join me at Gabbi's Mexican Kitchen and she agreed since it was high on her "To Try" list so we met for her first visit to Gabbi's and probably at least my dozenth visit.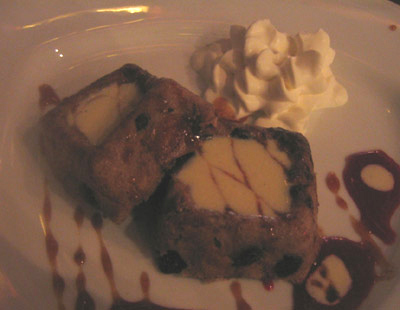 "Wandering Chopsticks" did a full writeup
here
, but since Gabbi's had two new dessert items I am featuring those here. The first is the bread pudding, or "Capirotada," shown above, Gabbi's "version of Mexican bread pudding served with
creme anglaíse
and
cajeta
(caramel sauce)." This actually comes in two separate chunks (loaves?), so it is very easy to split two ways, each one with its own little indentation at the top for the
creme anglaíse
to be poured into. Very efficient!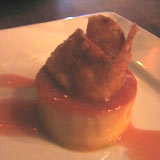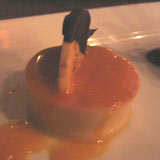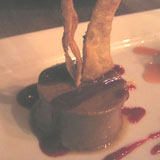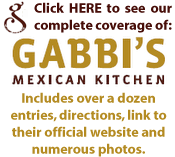 When I first started visiting Gabbi's Mexican Kitchen almost a year ago I noticed that their catering menu mentioned that they serve chocolate flan but that their restaurant didn't. I would often mention to Gabbi and her husband Ed that I was looking forward to trying the chocolate flan and they would always tell me that it would eventually be on the menu and now that time has arrived. It is now served as part of a Flan Trio partnered with a vanilla flan and a banana flan. The chocolate flan tasted very truffly so if you like chocolate truffles and you like flan then be sure to try this out.