Fresca's Mexican Grill
22681 Lake Forest Dr
Lake Forest, CA 92630
(949) 837-8397
Listing on Yahoo! Local
Listing on Ask.com's Citysearch
Official Site
Entree
: Ranchero Burrito
Drink
: Watermelon Aguas Fresca
Dessert
: Flan
UPDATE:
This location has
closed down
.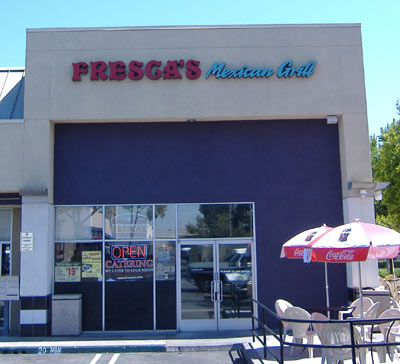 Fresca's is another place I used to make fairly regular jaunts to from one of my old places of employment. As far as unique identity goes they don't have much. They even have possibly the most generic name of all the fresh Mex grills since when you translate their name all the way into English it is simply, "Fresh Mexican Grill." The food is at least serviceable and they have a big salsa bar (one salsa is called "Japonesa") and your food is made quickly and you can see it being made. And this visit is the first time I was aware of them having
aguas frescas
. I don't know if the flavors change but today they had cantalope,
horchata
, and watermelon. I ordered the watermelon and it tasted a little mass-produced but not bad and I'm trying to cut down on soda consumption so it did the trick.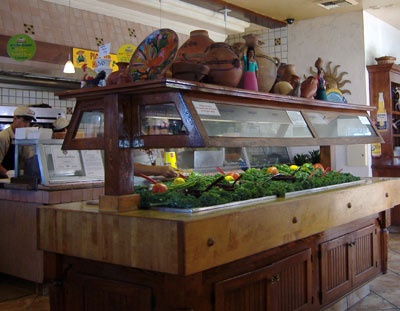 Mile-long Salsa Bar
Special of the day, the Ranchero Burrito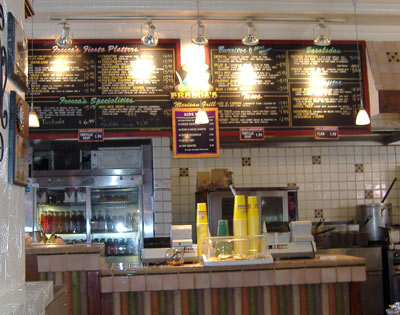 Not too inspiring but not as mundane as you think they might be, Fresca's Mexican Grill earns a three and a half Speedy Gonzales rating: