Time for another roundup entry, where I mention things that don't fit neatly into a traditional restaurant review.
Mexican restaurants that I've already reviewed and have eaten at since the last roundup entry include:
Baja Fish Tacos
(did anybody else notice their coupon stuck to the front page of The Register a couple days ago?),
Javier's
,
Del Taco
,
Cancun
,
La Salsa
,
Taleo
,
Gabbi's
,
Rubio's
,
Taco Bell
,
Molcajete Grill
,
Taco Rosa
,
Las Fajitas
,
Aztecas
, and
Kantina
(where I took advantage of their half-price Wednesdays).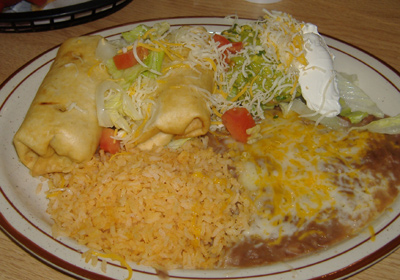 Molcajete Grill
Non-Mexican restaurants I've eaten at since the last roundup entry include but are not limited to:
California Fish Grill
,
the deli at Gelson's
,
Peruvian Kitchen
(
view flickr slideshow
),
Chick-Fil-A
,
Disney Soda Fountain and Studio Store
,
Corner Bakery
,
Catal's Uva Bar
,
NYC Cafe
,
Daphne's Greek Cafe
,
Ralph Brennan's Jazz Kitchen Express
,
Romano's Macaroni Grill
,
BJ's
,
Nalu's Island Grill
,
Mugen Japanese Cuisine
,
Wasabi
,
Old Spaghetti Factory
,
Dave & Buster's
, Maki Yaki,
50 Forks
(twice),
Curry House
,
Jackson Barne Classic Grill
, and
The Cravery
.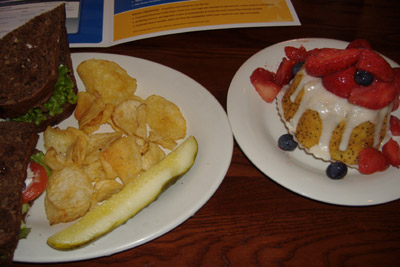 Corner Bakery
Went about a week ago to a big food blogger meetup at Break of Dawn organized by
ChubbyPanda
.
Polar,
brekkie_fan,
Eric (Vegas Buff)
, Veronica of
Wine & Dine
, Joy and Carter, and
ElmoMonster
were there and a few others. Before I went I had already determined to order the Eggs Benedict based on
CP's review
, but when I got there I noticed a couple Mexican items on their menu that I will try some other time and report on later.
Finally, last Tuesday night I attended a special event in Hollywood put on by Walt Disney Home Entertainment to trumpet the pending releases of the Pixar films Cars and Ratatouille to Blu-Ray DVD. All the guests were treated to some fine dining provided by some gourmet chefs, cheese sampling and made-to-order dessert crepes. Check out the photos at
my flickr page
.
We now return you to our regularly scheduled Mexican food programming . . . The fun never dies down here. We've definitely got more on the way, including a couple guest reviews from Johnny Automatic in the pipeline . . .