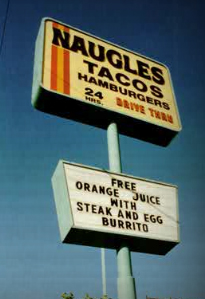 Here we get to pay tribute to another well-loved Orange County Mexican fast food phenomenon from yesteryear: Naugles. Only problem is I personally don't remember a lot about it so I need people to chime in with their comments. I never heard about Naugles until my later high school years and I never actually visited it until shortly before it was bought out by Del Taco. After the buyout all the Naugles restaurants were co-branded as Del Taco/Naugles restaurants for a few months before eventually becoming only Del Tacos. This explains why there are now two Del Tacos less than a mile apart from each other in Fountain Valley and two kitty-corner from each other in Lake Forest and two about a mile and a half apart in Huntington Beach. I don't even remember much about the food except that I liked it and I liked the fact they had grape soda in addition to all the usual soda offerings. I haven't even been able to find associated imagery on the Internet but I remember their logo being their company name inside the outline of a sun icon.
While they are certainly not in Orange County anymore, the original Naugles remains open in Riverside County (listing at
Yahoo! Local
) and if the opportunity arises I'll make a trip out there and report on it here.
UPDATE (Oct. 10, 2007):
It appears that even the original Naugles may have closed down. If anybody has any information on this please leave a comment.
UPDATE (January 10, 2008):
CLICK HERE
to read and sign our petition for Del Taco to bring Naugles food back.
UPDATE (August 27, 2008):
CLICK HERE
to read about a Naugles item you can still get at Del Taco.
OR click on the 'naugles' label below to read all our Naugles coverage at once:
UPDATE (January 21, 2009):
Just found an image of an old Naugles sign on the
Del Taco website
and put it at the top of this entry. You can find a bigger version of this picture by going to the History section of the Del Taco site then clicking on "1980." If they just added this to their site I wonder if Del Taco is thinking of bringing back some Naugles products. The mere fact that they would mention Naugles on their site
at all
is a pretty big deal. The fact that they would say they "merged" with Naugles rather than saying they "bought out" Naugles is an even bigger deal.
UPDATE (September 29, 2009):
If you want to order yourself a Naugles-syle meal here's a few suggestions: order a bun taco (it's not on their menu but you can still ask for it), any "Macho" item such as a Macho Taco or Macho Nachos, and ask for a bean and cheese burrito with no beans plus sour cream to get something equivalent to Naugle's much-loved cheese burrito. Here's a pic of my own recent Naugles-style lunch from Del Taco: